French Canal Routes to the Mediterranean

Gentle Sailing Route to the Mediterranean

For books and French canal charts please go to
Warship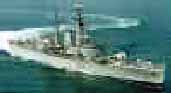 Of course I really loved directing Warship - In the first series that I directed we filmed in HMS DIDO a Leander class frigate - Douglas Borriman was the commanding officer. He was a navy flier - Phantoms - which was a happy coincidence as the character Brian Marshall was playing, the CO of HMS HERO, was also a phantom pilot.... Really enjoyed working with both men - Douglas was interesting and clever - I suspect very much in the Nelson mould. Brian was a wonderful actor - although a real east-ender he portrayed a RN officer superbly. Such a clever actor. The 2nd series took us to Hong Kong, new actors, new RN Captains and different stories.
One morning I found my self with the cameraman Ken Willicome up in a Wasp helicopter with a Leander class frigate below and a millionaires yacht to one side and a Nimrod (military version of Comet) aircraft all working to my plan and instructions!
My first shot was for us to be hovering at 200 feet above the frigate and the nimrod to fly exactly between us in the helicopter and the frigate - so the shot went LS Nimrod to CS pan down with it and as it wipes frame reveal the frigate beneath. The Nimrod pilot said 'his employers would not approve of him flying though so small a gap' - I said I wouldn't tell them if he didn't and bless him he agreed if we made the gap 250ft.
It was a great shot but after this huge aircraft flew only 125 feet below us - Ken gave the thumbs up to say the shot was OK, then the up rush of air hit the Wasp helicopter and the world turned upside down - great flying stabilised the situation but I was glad we didn't need take 2! It is still a good shot!
Working with the Royal Navy was a pleasure - they are very good at what they do. I think the senior officers felt that the vagaries of a film unit were good training. We would have a firm plan for each hour, day, week of shooting but if problems arose - weather - technical - whatever we were capable of changing the plan in a blink. The sort of immediate schedule changing that only comes in operational situations and not in training.
There is a really good site intended for ex-crew of Dido at www.HMS-Dido.com well worth a visit....
Interesting that a new series called MAKING WAVES is now running and looks very like the old WARSHIP. Shows that the Admiralty thought they got as much out of WARSHIP as they put in. Now in March of 05 I see that Making Waves is no more -
It was during the production of Warship that I purchased my first boat - a 22ft long keel sloop called JEMA JAN which my wife insisted on renaming MIGNON because it was so small - having done a winter RYA navigation course (long before GPS) 3 weeks after I purchased her I sailed her to Cherbourg from the Hamble - an intrepid voyage of 72 miles and 36 hours! There was almost no wind and Mignon only had a little outboard motor and a 2 gallon fuel tank!
The sea and sailing have probably stopped me having a heart attack and dieing young - directing can be quite stressful and I am pleased I had another great love Sailing to change my lifestyle - Directing in television is the art of the possible - in the time for the money - over running or overspending is not acceptable. Sailing is totally dependant on wind, tide and the condition of your boat - for the lack of a nail the ship was lost. You have to accept that the control of the situation is governed by forces far greater than anything mankind can produce.
I have sailed around the world, been in some heavy weather, Attacked by pirates had an emergency operation in Thailand, been hit by Lightning in the Chesapeake and had crew injured in heavy weather but none of these are as stressful as getting into a serious 'over run' situation in the studio!
http://uk.imdb.com/name/nm0108468/ This should go to my IMDb page