Michael E Briant
aka Michael Tennant
The first professional acting job, after going to the

in Archer Street W1, when I was 12 years old, was as an 'Elf & Rainbow Child' in the Anton Dolin production of 'WHERE THE RAINBOW ENDS' at the Royal Festival Hall in London. Before an un-amazed audience, including my father who doubted my potential but permitted me to have another 3 years at Conti's, my performance was memorable only to me.
The following year for the 1955-1956 Christmas season of , 'WHERE THE RAINBOW ENDS' also at the Royal Festival Hall I played the lead role of CRISPIAN CARY and from then on the educational facilities at CONTI took 2nd place to acting career
W
here the Rainbow Ends
is a children's play, originally written for Christmas 1911 by
Clifford Mills
and
John Ramsey. The

incidental music was composed by

Roger Quilter

.
Where the Rainbow Ends
is a fantasy, containing themes of British imperialism that would nowadays not be considered
politically correct
. It concerns a group of children separated from their parents. Travelling on a magic carpet, they face various dangers on their way to rescue their parents, and are guarded and helped by
Saint George
.
I was so lucky. Lots of 'acting' jobs came my way - particularly important was a series of different plays at BROMLEY REP. It was far more fun and interesting going to rehearsals in the daytime and 'shouting in the evening' than going to school.
Lots of telly came my way with leads in quite long running drama series like:-
THE LITTLE ROUND HOUSE,
MR PAPPINGAYS SHIP,
THE MONEY MOUNTAIN
My first venture into feature films was a Pinewood movie designed to be a sequel to the highly successful
Genevieve.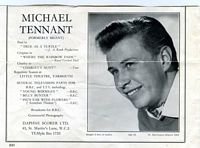 Tony
Jane
Dudley
Harry
Anne
Valerie
Charbonnier
Mary
Sir Harold Brazier
Lady Brazier
Paul
1st Officer
A wonderful cast of actors and was directed by Wendy Toye.
In a way it introduced me to 3 of the most important elements of my life -
The location filming was all in France where I eventually lived for over a decade.
It gave me enough money to buy a Palliard Bolex 8mm cine camera and from then on I started making movies and became a director.
'Turtle' was set in a world of boats and sailing - I made a circumnavigation in my own small sailing boat.
Lots of other theatre came my way including several tours for Carl Clopet Productions managed by my dear friend Norman Atkyns who later acted in several of my own productions. I played the boy in the BROWNING VERSION up and down the country as well as CHARLIE in CHARLEY'S AUNT and lots more.
Touring in those days meant traveling by train to the next town on Sunday and finding digs. Going to the new Theatre on Monday evening and sorting costumes and makeup - then 6 evening shows and two matinees giving lots of time to see the town then Sunday morning onto the train with all the rest of the company and off to the next town with the scenery in the luggage van.
As I entered my late teens the leading/important roles became harder to find - they were finding me out - and for a summer I worked as an ASM and actor at the Little Theatre - Great Yarmouth.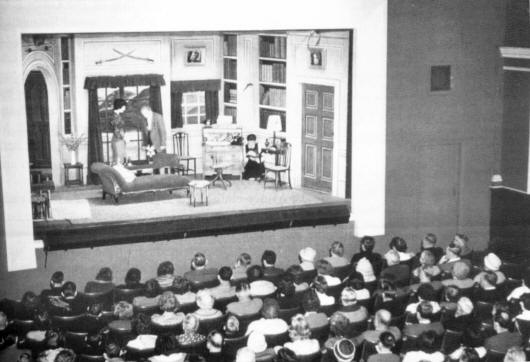 Wonderful experience doing weekly rep in a holiday resort theatre. Quite hard work - Monday morning sort costumes and props and do a dress rehearsal in the afternoon - Evening give first performance of that weeks new play which sometimes involved setting the props, getting into my costume and makeup - calling the main actors - playing God Save the Queen, taking the house lights down and bringing up the lights for the 1st scene, running down into the wings, making an entrance and 'giving' whatever was role for the week. Tuesday would start with a read through and blocking of the next weeks play, rehearsals Wednesday Thursday Friday and playing in the evening with matinees on Wednesday and Saturday.
Saturday night after the show striking the set and cleaning the stage and putting up the new set for next weeks play and staggering off to bed after midnight to have a day off on Sunday unless there were props to make or ....
This summer season taught me the art of the possible, how to 'run' a flat and do a quick scene change in a blackout. Later as a television director this knowledge was invaluable. I knew what scenically could or could not be done and how long it should take.
I toured for a while with a children's theatre performing in schools up and down the UK. Based in Birkenhead the company required me to drive the van containing the scenery and other actors, put up the set, play the leading role of the Pied Piper and play the flute - all of which I did with more enthusiasm than skill - lots of fun - the more shows we did in a day the more we were paid so sometimes they got us doing 3 schools in the morning and 3 in the afternoon.
Not certain that practice makes perfect...
Played Harry Wharton (As Michael Tennant) in London's Victoria Palace Christmas production of BILLY BUNTER and later played FRANK NUGENT (As Michael Briant) in the 1961 BBC television production. A few commercials, some radio, small parts in small films, bits and bobs in BBC television productions like Armchair Theatre and The Grove Family. Doing OK but having spent my childhood playing leads or principle roles I was finding it hard to just do a couple of lines. Big difference between being a child actor and an adult actor. - You can't fool all of the people all of the time'.
Gerald Campion (Billy Bunter)
Kynaston Reeves, Jack Melford, Raf de la Torre, John Woodnutt (Mr. Quelch)
Anthony Valentine, Julian Yardley, John Charlesworth (Harry Wharton)
Brian Roper, Peter Greenspan, Keith Faulkner, Cavan Kendall (Bob Cherry)
Laurence Harrington, Michael Briant, Jonathan Margetts, Peter Marden, Michael Danvers-Walker (Frank Nugent)
Barry Barnett, Brian Tipping, Ron Moody, David Spenser (Hurree Ram Set Jam Singh)
David Coote, Melvyn Baker, Colin Campbell, John Breslin, Barry McGregor (Johnny Bull)
Peter Scott, Ian Hobbs (Horace Coker)
Cavan Malone (Lord Mauleverer)
Other members of the cast over the years were: Ronald Adam, Jeremy Bulloch, Gregory Warwick, Michael Tennant= Michael Briant William Strange, Hugh Ward.
Also, later to be famous, Michael Crawford
When the publishers Classic TV Press asked me to write these memoirs I was very flattered but somewhat unsure.

The title sums up the question I have been asking myself for years.

The book is available from

More about it
T
his link is for Maggie -
We were at Conti's together -Tony was my friend, your lover and you were a Bluebell girl and so beautiful.
Everything in the number and intro, is how it was - miss you
| | |
| --- | --- |
| | For my sailing books and French canal guides please go to |