Dr Who Stories I directed with Jon Pertwee and Tom Baker were:
Colony in Space
The fans impressed me enormously with their knowledge and understanding of Dr Who generally and particularly the 'older Classic Stories' in 2015 so it is lovely to be going back again in 2016.
. I arrived many years ago to do some work in LA and checked into the Chateau Marmont Hotel and whilst I was unpacking my suitcase I switched on the TV and up came a Dr Who episode that I had directed some time before - strange coincidence - 'fickle finger of fate' -
It has been pointed out to me, that Robots of Death is the only one of my Dr Who productions that does not have me doing the voice over commentary. There is an interview on the DVD, but I was not invited to do the commentary, which saddened me greatly, as a lot of what is said, over the playing of the show, is somewhat inaccurate.
When the publishers Classic TV Press asked me to write these memoirs I was very flattered but somewhat unsure.

The title sums up the question I have been asking myself for years.

The book is available from

More about it
Encounters with the Doctor before I directed him.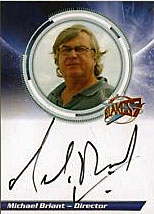 Dr Who has been influential in my life although I find it strange that a series I worked on 30 to 40 years ago still interests so many people. Must have had something.
In 1964 I joined the BBC on a short term contract as a trainee Assistant Floor Manager and on my 2nd or 3rd day was sent to the London Transport facility in Wood Lane to help out for a few days on the Dr Who show which had just started. William Hartnel was the leading actor and I worked for some weeks on the production. The episodes were recorded at the BBC's Hammersmith studios.
In Drama Serials department, working on Dr Who, was inevitable, challenging and enjoyable - I was either ASM or PA on the Crusade - directed by Duggie Campfield - big problems with killer ants from the London zoo which were supposed to eat someone - I put honey on the person they were supposed to eat and the ants died in the honey - too few, too small - ants..
Series 3 of Who began and I was ASM to Rex Tucker directing the Gunfighter which was mainly shot at Ealing Studios. Really remember very little except thinking that British actors made unlikely cowboys but I have not seen it since, so maybe I was wrong.
I was involved as PA in Pat Troughton's start as the new Doctor - very important decision and Sydney Newman - Head of Drama was very involved and because of that Shaun Sutton head of Serials was very involved - the produce Innes Lloyd was of course very involved and willing to be guided by the people who had been around at the very beginning of the series.
Sydney said the new Doctor should be a 'space hobo'. This caused some consternation amongst director/producer/costume supervisor/makeup/head of serials et al as nobody had ever met or even seen a space hobo in their lives. Nothing daunted Pat was provided with a top hat with a loose lid, some sort of dinner jacket in need of repair and oversized clown shoes........ Mr Newman was not impressed and expressed his disappointment loudly and clearly, then departed wishing us to do better. Innes and I departed for the club and a couple of large whiskeys. In the end Pat's costume was modified and the recorder, which Pat played for fun, became part of the character.
Series 4 - I PA'd a Daleks series shot at Hammersmith riverside with Christopher Barry directing - really do not remember a lot about it except we had a Dalek factory in the story... All the baby Daleks coming off the production line had been purchased from Woolworths as that was cheaper than 'visual effects' department making them!
On series 5 I was the PA on Fury From the Deep. I remember it vividly as it was full of oil rigs and helicopters as well as foam flooding up tubes. It was my job to find locations and none of the oil rig companies wanted us anywhere near their valuable rigs.
The director Hugh David was a delight to work for but had ambitious ideas and part of my job was to see the production came in on budget. The foam effect was to be provided by a company that put out aircraft fires - vast quantities of foam could be generated with lots of water but was safe for passengers to be enveloped by. Perfect for us.
The Helicopter (a very small one - Hughs-300) was to be flown by Mike Smith from Denham and for one day we would have a 2nd helicopter - an Alouette - to film the first one and for a helicopter chase sequence.
I heard that the old Radio London base, on the ww2 structure out in the Thames estuary, looked something like an oil rig so that problem went away. The problem of foam all over the rig also went away as the helicopter would fly the foam machine out to the rig
On Location Hugh decided that he would like Mike Smith to fly the helicopter between the legs of the rig to make the chase sequence more exciting - sure Mike said - easy! The 2nd helicopter pilot said he had never seen anything so dangerous in his life! Mike only had 3 feet clearance on either side of blades as he flew between the legs.
It was the last day of filming and we all got back to the hotel for a celebratory drink - Mike ordered champagne and brandy for everyone and proceeded to enjoy himself - I was busy trying to be a responsible Production Assistant as he pulled me over in my chair. 'Have you never wanted to swing from a chandelier like Douglas Fairbanks?'
'Not recently' I said eyeing the large chandelier hanging from the ceiling.
'Well I have' declaimed Mike and he sprang onto the table and leaped into the air grasping the magnificent center piece to the room.
There was an instant when it might have worked but only an instant... The entire ceiling collapsed showering everyone in plaster and Mike was on the floor embracing the chandelier. I loved him dearly for that but its hard to explain to brave and talented helicopter pilots that real life is different from movies.
The SONIC SCREWDRIVER was my invention - it was not scripted. Whilst Hugh and I were looking at the set in Ealing Film Studios for the foam sequence Hugh realised that it would be impossible for the Doctor to escape from some tunnel or other because of the way the door was designed. The designer offered an expensive solution which horrified me as we were already over-spent.
'But he will use a sonic screwdriver' I declared - 'You just point it at screws and the sonic vibrations make the screw undo'
- (electric drill on other end) a cheap an effective solution that was still around when I directed the Sea Devils - eventually it was dropped as made escape to easy and predictable.
The next time I encountered the good Doctor I was a Director - go to the next page More Who
Colony Robots Daleks Cyberman Green Death Sea Devils
I have just been sent a link to a Dr Who animation on UTube' made by my friend Alex Buckley - well worth a view
It is amazing what can be made with a tiny budget and lots of enthusiasm!
Colony Robots Daleks Cyberman Green Death Sea Devils
http://uk.imdb.com/name/nm0108468/
This should go to my IMDb page