French Canal Routes to the Mediterranean

Gentle Sailing Route to the Mediterranean

For books and French canal charts please go to

Onedin Line was fun to work on as, like Warship and Treasure Island, I had possibly a greater knowledge about things seafaring than some other directors - Had some adventures making the episodes. Did a diving sequence and spent lots of time underwater directing it - some of the crew thought it was the best place for me. Really enjoyed the boats and sailing sequences. Such a professional cast and well established series for a director there was little to do except it is always helpful on a production if you have some specialised knowledge - sailing - scuba diving etc - a very young looking me in the 'porthole' on the left clutching a script with Peter in a lifejacket!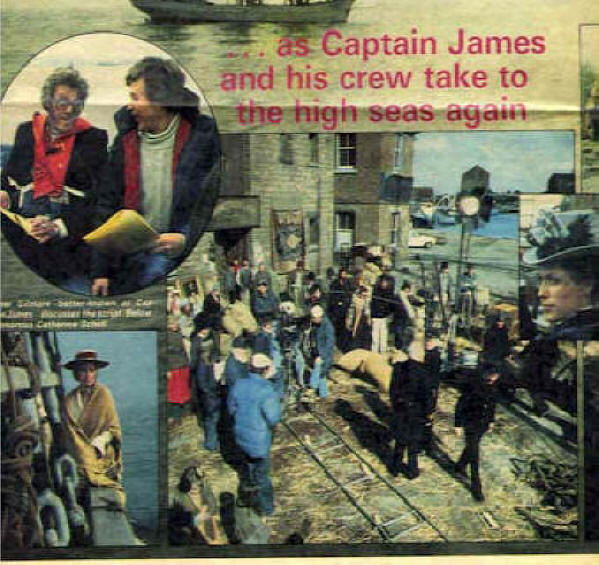 Did a big pirate boat attacking sequence and on the morning of the shoot lost all the 'pirate' extras who were to have been black guys from the local US military base.... Nothing daunted (and with little choice) I doubled the Onedin crew as pirates! Did all the shots of them 'blacked up' attacking James's lot. Did singles of them fighting and dieing etc then changed them back into their own costumes and had them defending. Some confusion and worry reigned in case we got the continuity wrong and had the same person fighting himself!
Peter is a charming man - really good to work with. Never played the important actor. In fact he did not want or seek close ups - he felt the audience saw almost too much of him so preferred not to dominate every scene. He was really not interested in boats or the sea but that did not stop him from being prepared to do quite risky things whilst aboard. We were filming in a gale once and I needed a shot of him climbing out on the bow sprit - he and 'Baines' were meant to be sailing the ship home, with just the two of them to crew it. Peter went out on the bowsprit and furled the sail - and it was rough and windy!
ONEDIN line was one of those shows that relied on it's leading man. Like most truly talented people he was modest and self effacing and was only interested in making the production as good as possible. 'Onedin line' could not have existed without Peter at the helm.
Peter and I discuss the script or more likely what we will have for dinner!
http://tv.groups.yahoo.com/group/shiponedingroup/join is a link to band of Onedin Line devotees and could be well worth a visit.
http://www.sound-research.co.uk/onedin_line.htm is another Onedin site and 'Bill' may be able to help you find early series 1,2 & 3 which have been released in the Netherlands where it is still a popular programme.
Almost daily I get emails asking if there are any other DVD's or Tapes other than the original series presently on sale - I do not think there are.... You could 'persuade' the BBC to release more episodes if you and all your friends went to:-
http://www.bbcshop.com/page/feedback
and complained!!!!!!!
The following is the reply received by one Onedin Line fan who emailed theBBC:-
Hello,
I emailed the BBC shop site via 'feedback' & got a reply giving this address to write to concerning trying to get the rest of The Onedin Line series onto DVD:
BBC Commissioning Editor
3rd Floor
2 Entertain Video Ltd
33 Foley Street
London
W1W 7TL

Please note that enquiries can only be made by post.
I don't know if you already know about this but it might be useful if you could add this information to your website and maybe, if enough people write, they will listen. I will definitely be writing and buying the DVD's if they release them.
Regards,
Yvonne Smith
Hi
There is no mention on your website of the availability of the DVD's from The Netherlands - sold on ebay. I have just found them and am really tempted to buy them as have been wanting to watch the whole series again for years!
Regards,
Gaynor
series 4 of the Onedin Line is available from the same Netherlands vendors as the previous series. All these are with English sound tracks and "turn off-able" Dutch subtitles
If you try to complain to the BBC about the non availability of the series and want to share the reply on this web site then please do and email the result to me
Please click on the link to email me
Really enjoyed working with Peter Gilmore and was delighted, when years later, we did ONE BY ONE together. The Zoo vet series.
Mind you it was not as dramatic as the time I was really Attacked and robbed by pirates in the Gulf of Aden!
If you are interested in the sailing and the sea then please visit the sailing section.