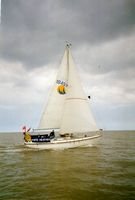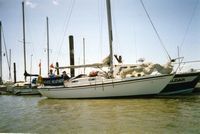 My wife wanted a table and a loo that was not a bucket. Mignonne gave way to Gamine - a brand new Jaguar 25 with a proper heads,. a table and a bigger outboard with a 6 gallon fuel tank. (This picture is not of Gamine but a similar Jaguar 25 also orange. That spring she broke her rudder blade in a 6-7 off Alderney Race and I was towed for 12 hours into Cherbourg by a French Frigate. My wife who was on board at the time was not impressed and after that I started single handing! Got the repairs done and in-between directing a sequel to SECRET ARMY called KESSLER in Belgium I sailed her back to the Solent.
Needed a bigger sturdier boat and purchased an ELIZABETHAN 31 called LIZELLE. Wonderful yacht. Long keel - well built. She taught me to sail. Went all over northern France and the channel Islands. Down to Brittany then to Amsterdam. One winter I set of from Amsterdam down the canal system to PORT ST LOUIS in the French Mediterranean. Exquisitely beautiful and interesting trip - cannot recommend it enough. Had a few weeks in the Med then work came up and in the end had her shipped back by lorry. These are superb boats. Lizelle has now been re-named White Heather and last I heard was a sailing school boat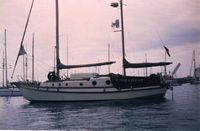 Because I had found living in a 31 footer a bit cramped and I intended to do some longer cruises I purchased the ketch SOUTHERN CHANCER an extended Maurice Griffith GOLDEN HIND in steel with a 40ft LOA.
Took Southern Chancer across Biscay to the Med in late September/October and later down to the Canaries. I found the maintenance on a steel boat trying and she was a bit slow. Sailed her back to the Med along the Spanish coast to Sete in the South of France. Took her masts down and spent a pleasant 3 weeks motoring her up the canals then the Seine through Paris to Le Havre.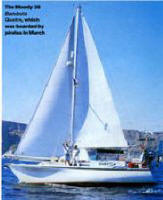 Sold her in London and purchased BAMBOLA QUATRE an Angus Primrose Moody 36 with a center cockpit and a huge aft cabin. Wonderful value for money. I took her across Biscay and into the Med in early spring and spent the next 3 years cruising from Gibraltar to Turkey - Tunisia to Morocco - Balearics - Greek Islands - France then across the Atlantic to Trinidad - USA - Panama - South Pacific - New Zealand - Australia - Indonesia - Asia - Red Sea - across the Med again and up the Portuguese coast North to home.
Been hit by lightning - attacked by pirates - All without harming me or my crew and had the most wonderful voyage you can imagine. Sheer Magic...
f you are coming up the Red Sea then you may be interested in the notes on my passage.
If you are worried about Pirates then do have a look at the Pirates page and what being Attacked by pirates is like is a revised reprint of the Yachting Monthly magazine article.
If you are worried about being hit by Lightning then this may interest you.
If you have not crossed the Atlantic before and would be interested in the log I wrote at the time of my first crossing then Atlantic is perhaps worth a visit. Following that page are how I plan water and food for long trips Victual and as mainly a single-hander how I have found people to help with Crewing. Also there are my thoughts on Watch Keeping that are personal but may be useful.