Really this is the most beautiful canal in France.
Some of the 'flights' of locks are spectacular and the towns, villages and cities are charming, interesting and worth spending a little time in.
Because of my wife's illness I single handed the entire trip. In many locks the lock keepers would take my lines because I was single handing. If you have a crew then they certainly will not!
Best time March/April to early October -
If your boat has the right draft this is an excellent way to get quickly from the central Mediterranean to the English Channel - Some lovely cruising up the West coast of France and a much easier route than the Portuguese coast or Azores options all to windward......
NOTES ON THE CANAL DU MIDI.
Biggest problems
Draft - 1.6 metres (5ft 2 inches) MAX! Less in high summer -
Width 5.5 metres - (18ft.)
Height 3 metres but be warned that the height of 3m is to the centre of the bridge arches - the sides may be as low as 2metres (6ft 5inches)
The length of the locks is 30metres (98ft 4inches)
Be aware that in mid summer, when there is a drough,t water can be lower, much lower than advertised in the Canal du Midi. Unlike the canals in eastern France where you can push your keel though the soft mud the Canal du Midi was blasted out of rock... It is not unknown, when the level drops in mid summer, for boats on the limit to have to be craned out and put on lorries in order to complete their trip.
If you are heading for the Canal du Midi from the Mediterranean, then Sete is probably best. Go to the yacht club to have your mast very expertly craned down and loaded aboard. Take down your mast and get lots and lots of fenders or rubber tyres to surround you topsides and protect your hull from the rough concrete walls that you will regularly be coming alongside in locks. The tyres should touch the water.... It may be worth making a couple of X's out of wood with a bolt through to support the mast. - there are normally stacks of tyres at the cranes left by boats going the other way. Covering them in plastic rubbish bags secured with lots of sellotape and constantly renewed is helpful in keeping black marks off the hull.
You have to get through a railway bridge that only opens morning and evening. This gets you into the Etang de Thau which is buoyed and sometimes shallow outside the channel.
Into the Canal du Midi - into the Canal lateral de la Garonne, past Montech, Bezier, Carcassonne, Toulouse and lots of charming villages and towns....onto Bordeaux and the Gironde River and the Atlantic Ocean.
When you arrive from the sea into Sete you should be able to get your mast down economically at the Sete Yacht Club. After 'fendering up' you will need to escape the harbour by waiting until the railway train bridge opens to let you into the Etang du Thau. Normally there is an early morning and late afternoon 19.00 ish opening... Check times locally = does vary slightly year on year.
If you do not have a CENVI (the bit of paper which says you are competent to drive a boat on a canal) then my feeling is you should not worry too much in the Canal du Midi. There are literally hundreds of hire boat running around on this canal and none of the drivers of these boats have CENVI because it is not required for folks hiring pleasure boats. The French are pretty realistic and will probably never ask you to show yours. If you were involved in a serious accident - incident then the story may be different....... You must pay the 'canal licence' vignette as lock keepers will check you have it...
The excellent thing about the late opening is that you can go under the bridge in the evening - moor up on the right against the town wall and walk back to the cafe/restaurant on the corner of the quay closer to the bridge. In daytime it is an unprepossessing little cafe but at night the tables come out and 'locals' come from miles around to eat here - a few very simple dishes - mainly sea food - which you order portions of to suit your appetite - one of the cheapest and best meals I had in the area! Each 'item' is only €3 or €4 euro!
THE FRENCH CANAL ROUTES TO THE MEDITERRANEAN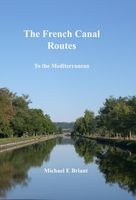 If you are thinking about using the French canals to passage between the UK and the Mediterranean then this booklet contains all the information you need'
It describes the Routes, the regulations the paperwork - How where and when to get the qualifications and license, the depths, air heights, locks and a whole lot more.
There are 'charts/maps' throughout, the distances, dimensions & main stopping places and is the only publication to list ALL the possible stopping places on the Rhone River!/
THE FOLLOWING IS MY LOG OF A CANAL DU MIDI TRIP IN 2005 FROM SETE TO BORDEAUX
Crossing the Etang du Thau I used the GPS, having looked at a chartlet and knocked some distance off the recommended route by going in a straight line - more or less...
When you get to the Canal du Midi entrance it is pretty crowded with parked boats and until you have passed the first lock it is possibly difficult to find a parking place for the night which makes a morning departure even more attractive.
the next day we crossed the Etang de Thau and entered the Canal du Midi!
8th August left early and crossed the Etang de Thau (2 hours) before the wind got up and entered the Canal du Midi - pretty busy area with boats parked everywhere, Glenans sailing school, permanent liveaboards, all pretty squalid etc. Did not look very attractive and I was glad I had not crossed the previous day as parking would have been difficult.... THEN IT ALL CHANGED!
Became pure "wind in the willows" very very beautiful indeed.
A lot of big 40 -45 ft hire boats driven by people 'sans permit' with no experience but with lots of fendering, rubber strips and speed limiters..... Purchased fuel from hire base at 20% surcharge straight out of pump - alternative was to hump Jerry jugs.... Got to Colombiers - a large village port de Plaisance with small supermarket, 2 restaurants - one on quay side - the Ecluiser and one in the village. Had an expensive meal and not particularly nice one in l'Eculiesier.
9th August left fairly early but felt pretty queasy! Spent morning 'driving' with one hand into locks and baffing into bucket held in other hand! L'Eculiser had got my stomach and dosh. By midday I could continue no longer and parked up in charming village of Le Sommaile. Spent rest of day in bed and loo!!!! I have eaten out all over the world and have a strong stomach but other than one time in Hong Kong I have never been so food poisoned!
10th August Better - left and got to St Martin - all still beautiful and absolutely charming!
11th August Arrived in Carcasson at mid-day - went shopping for food etc then carried on out of town. Because of lots of local 'unemployed' it did not feel a very secure place to park. carried on till dark.
A word of praise for the architect of the canal du midi.... He constructed this canal with remarkably few locks in spite of a considerable rise in altitude. (You can make much better mileage than in the northern / eastern France canals where the locks are prolific)
12th August stopped at Castelnaudary lock for night - all so pretty.
13th August Castanet -Toolosan. .... reached summit and started going downhill. Locks of course much easier to cope with but there are miles of beautiful reaches following the contours of the land with no locks at all - brilliant construction and design and always beautiful! The Canal du Midi locks are oval rather than round (to permit faster filling!) and makes parking a bit more of a challenge. There are lots of very clever 'flights' of locks' which are difficult to single hand and need the assistance of someone on shore to put the lines over bollards. Unlike the other canals these locks start at O9.00 - close 12.30 to 13.30 for lunch and finally at 19.00.
14th August Passed through Toulouse and past the Airbus factory and a yard which maintains 'live aboard' Peniches. A very ancient and interesting town. Odd to be passing through the suburbs in a boat. Grissoles for the nights mooring.
15th August Valance d'Agen. Towns little municipal FOC port de Plaisance. Town itself charming and ancient with excellent little supermarket. worth a visit!
16th August Through town of Agen and its dramatic viaduct of the canal over the river and now in the Canal Lateral de la Garonne. Parked by the 14th century farm museum of le Ferm de Follett. Bit shallow but did not have to use stakes... A lot of the locks are now automatic - later they require the lever to be pressed twice - the second time when the lock has emptied which means you are way below the height of the leaver! when you press/push the lever the first time watch the gates close behind you and the 4 shutters raise on the gate in front. When all 4 have risen and your boat is starting to go down press the leaver for the 2nd time and it will 'remember' and the gates will open when the water level has dropped! (not a lot of people know that!)
17th August Castests. The end of the Canal de la Garonne. A sort of Port de Plaisance for 3 euro a night in front of the last two locks. these only operate at local HW of la Garonne and you can arrange with the lock keeper to let you out (or in) half an hour before HW. Need to move with other boats as there is only one lockage each way at each HW.
18th August 07.30 into the first of the two exit locks with 2 other boats. Into the river about half an hour before local HW. River full of debris and big with sand banks and sticky up bits. Needs full attention. If you flush the loo the water comes in very **** mud colored and you may think there is a problem. When the ebb starts the river runs at 4 to 5 knots in the middle. Got to Bordeaux at midday and parked up on excellent floating pontoon outside 'port of Bordeaux' lock. This opens at local HW so had to wait till 18.30 to lock into the basin and go to inner basin. You can use the crane here DIY for 32 Euro and there are all the chandlery, sail lofts etc you need around the basin no 2. Parking is on a sliding scale but for a month for my 10metre Prout 33 charged at 150% it is 90Euro a month - lots of liveaboards and although not that attractive with ww2 German submarine pens on one side and stern/bows to mooring system I think it is a good - fairly safe place to leave a boat for a while.... I hope it is!
ELOISE is now in the basin waiting for deliver of new furling gear for the headsails and for La Rochelle to become cheaper in October when I will move her down the river and into the Vieux Port my home town.
Summery of Canal du Midi:
It took 10 days to do the trip from Sete to Bordeaux. Half a day of which was spent being sick as a parrot! Cannot truly imagine it is possible to do it much faster! It appears to me to be the most beautiful canal/river passage in France. This is reflected by the intensity of hire boat running up and down it. They do spoil it a bit making some parking places look like a caravan site but the folks in these canal self drive hire boats have paid a lot for the privilege - 2 - 3 thousand euro a week!!! They are friendly and mainly try to drive their boats sensibly but have mainly had no training whatsoever!!
Sept 30 Back to Bordeaux - Put up mast with little crane for 32 euros. Paid mooring bill - probably the cheapest parking in all of Atlantic France - and moved, having previously booked the lock exit, at high tide out of the basin and parked on the waiting Pontoon for the evening.
Oct 1st Departed 0600 - one hour before local HW Bordeaux and pushed 3k of flood tide down stream in the dark. By daylight the tide changed and the GPS showed us making 8K over the ground. River a dirty muddy brown - fast flowing - I used new French charts which were worth the expense - Around 14.00 the local tide turned and we were again down to 1 or 2 K over the ground on a boat speed of 5K. 4 hours later it flooded again and we got into Royan at 19.00. The prevailing Northerly winds got to 15k in the PM and raised a chop against the ebb tide and river. 50 nautical miles.
Oct 2nd Left Royan at 09.00 and followed the channel out between the sand banks - mid tide - max ebb - really quite large chop even centre channel - Stood Eloise up on end a couple of times and quite large lumps of water over the coach roof into cockpit - not a place to be in a wind over tide gale! Cleared the Channel after a couple of hours and motor sailed into 10k north easterly to La Rochelle - arrived in Vieux Port on visitors pontoon at 19.00 - 52 nautical miles - once you clear the buoyed passage out of the Gironde the tidal effect up the coast is fairly neutral and the trip in beautiful clean Atlantic waters with small waves not horrid chop!
I will spend the winter working on Eloise to bring her up to scratch - because of my wife's illness I am not certain what the sailing future holds - if anything - but having the boat close to the house will certainly allow me to prepare her for a possible Atlantic crossing or extended cruising...
I am pleased to say this web site is

who have been kind, helpful and understanding. I really recommend them