Mediterranean Summer Cruise 2015
This is the excellent company I use: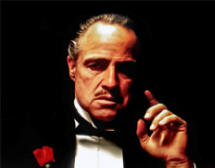 Ameliorated Log Book
I wanted to go to Palermo to walk in the footsteps of Horatio Nelson & Emma Hamilton and Louise wanted to go to Palermo to see exactly what 'The Godfather and the Opera House' was all about.
so
our summer cruise plan for 2015 started in our home port of Queensway Quay, Gibraltar, passaging direct to the Balearics then to Sardinia, Sicily, Malta, Tunisia and back via Balearics to Gibraltar. The terrorist attack on mainly German tourists in the museum in Tunis we felt was a one off and that the country on high alert was as safe as it could be. Visiting this beautiful country had the big plus of getting much better winds to get NW. The option of going along the Algerian coast, even off shore, was a non starter because of the unfriendly attitude of this country to tourists and further offshore the mass of merchant ships plying east and west made it not a healthy place for a small boat. (See www.vesselfinder.com)
Our planned cruise looked like this
In the good yacht PAW PAW of London - a Westerly Ocean 43, crewed by Louise and myself we set sail for far away places with strange sounding names.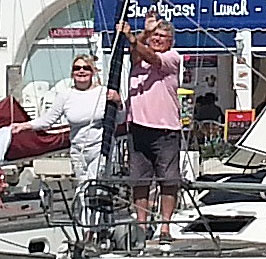 16 June Set sail from Gibraltar
How quickly plans change... The day before we motored round to the Gib fuel dock to fill up at 44p per litre and the autopilot electric motor stopped working!
Tim came round this morning and quickly fitted a replacement motor and we decided the very long leg from Gib to Mahon should be modified in order to 'test' the new electric motor and because the forecast 3 days ahead had deteriorated. We decided to 'overnight' to Almirimar and left our home berth at Queensway Quay at 10.30. Off Europa Point we picked up a perfect W F5 but as the day went on it fell away to a W 1-2 so we started the 'donkey'. On the rhumb line from Europa Point to Almirima we experienced almost 3 knots of counter current.
17 June
Midnight: Lou Lou came on watch and it was cold and dark. At 03.00 I came back on watch and it was still cold and dark and there was still almost 3 knots against us. The autopilot worked perfectly. Good old Tim!
Arrive Almirimar 07.30: Pulled into Almirimar, to be welcomed by the 'night watch' Marineros who immediately waved us round to park up, stern to, on the main quay where we had breakfast waiting for the office to open and to 'check in'.
18th - 21 Almirimar In our opinion, is is the most under- rated marina on the Costa del Sol. It has none of the awful Brits, Germans and Dutch on package deal holiday, atmosphere and although there are ex-pats
living here it still retains a Spanish atmosphere. The prices for mooring the boat are probably the lowest in the Mediterranean and apparently there is a winter deal that cannot be beaten anywhere. Excellent boat yard with big travel lifts and skilled workers if you need them not to mention A n C sailmakers who also do upholstery to a high standard at low prices - Colin the sailmaker is highly skilled and because courier overnight deliver is so inexpensive in Spain - Typically 15€ from Almirimar to my house in Ronda - boating people from the whole of the Costa del Sol come to him and Angela for marine upholstery works. The excellent chandlers Alamar Centro Nautico are all brits despite the name and learned more about radar and chart plotters in a couple of hours from the boss Spencer than I did with days trolling the www.
Quite apart from price and the best English speaking boat facilities after Palma de Majorca it has so much to offer as well as a beach, hairdressers, 2 or 3chemists, banks and a huge supermarket there is a Irish tapas bar restaurant called MacGowans .. who cleverly do UK tapas (all the other bars offer Espagne tapas) You can have fish and chips, egg and chips, curry (brilliant) and about 15 others with specials. The deal is you get a free tapas with every drink you buy. We normally end up not having tapas with our last round as we are already full... Such nice people.
not difficult to while away a couple of days here waiting for a good 4 day weather forecast for the next let to Mahon - around 400 miles.
22nd June Slip Almirimar
at 08.30 having carefully looked at www.weatheronline.co.uk/marine/weather for Cabera area and http://en.eltiempo.es the Spanish met office they both said we will have fair winds.
Noon with Louise on watch - we are off Capo de Gata with SSW 4-5 - excellent
23rd June
00.01 SW 1 and motoring. Pretty busy with merchant ships and fishing boats.
06,00 SW 3 - We are now off Palos - pretty busy with lots of ships/FBs on AIS and Radar,,, I am off to bed!
12.00 SW3 - motor sailing with preventer on main. 1600 RPM
18.00 SW3 - motor sailing with preventer on main
24th June
00.01 ENE 3 - On the nose! - off Formentara.
12,00 ENE 5 Motoring at 2,000rpm and making 3knots by gps, Forecast is for it to moderate and become SE. (We can pick up internet with dongle at 15 miles off!) If it does not change soon we will head due W into a Balearic marina.
25th June
00.01 Wind dropped and backing - heading for Mahon again
03.00 back to NNW 5. really bouncy and not a bundle of fun! Ugh! Came up to 30K on the nose for a while..
09.00 Fuel dock in Mahon Yacht Club topping up for next leg
11.00 Backed onto floating 'dock' in middle of harbour.. We will stay a few days to recover as Mahon is our favourite place in the Balearics and the parking on the floating island with electricity and water is relatively inexpensive!
Almirimar to Mahon = about 394nm in 75 hours average speed 5.25knots. More than half way to Palermo in 5 sailing days.
26th June Mahon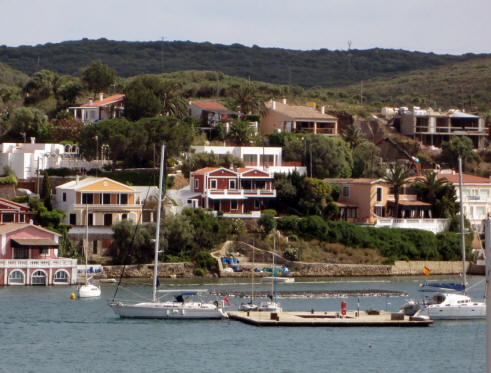 Got the new Seago dinghy with it's inflatable floor and keel pumped up, and almost got it on the plane going ashore pushed by the 5 hp Mercury! Such a nice and friendly town with excellent supermarket in shopping arcade although the 'stairs' up from the cruise ship terminal are a bit challenging!
In the excellent chandlers Louise insists on buying the latest edition of Italy and Italian Islands Pilot book feeling that my 20 year old copy from the last visit is - well too old. We see a modestly priced 220 volt electric dinghy inflator and having puffed away, a few hours ago, for what seemed forever, buy it.
We are shocked to hear about the Tunisia beach massacre. Terrible event. This has turned our plans to get back from Scilly, via Tabarka in Tunisia, on the head.
We must watch developments and try to make an informed decision. I have visited this country both for holidays and in various boats a dozen or so times, The people are kind and sophisticated who welcome tourists with open arms. Tourism is one of the financial mainstays of this country and it is a tragedy for all the workers in the in this industry. Will watch the news carefully and see what the FO has to say.
27th June Mahon
Checking weather like mad in various cafe's as we sample the local wine and tapas. Need a bit of care as the Mistral can blow down from France making the Sardinia channel horrid and there are no ports of refuge,
28th June Slip Mahon
06.00 Slip Mahon despite the loop in the mooring line catching in the cleat on the pontoon, My fault - should know better that to try to pull the loop end though even if that's the shortest end!
We needed to leave at this ungodly time as at 5k Sardinia is a day/night/day and we don't want to get into this port at night, as it is so busy with commercial ferries.
12.00 N4 motor-sailing on calm sea with one yacht astern but nothing else in sight even on 12 mile AIS.
18.00 N4 sailing - AOK
29th June
00.01 NW3 - AOK
06.00 N5 - one yacht ahead - off to bed!
Arrive Carloforte Sardinia
14.30 Entering Carloforte to be met by rib asking if we had booked in the marina and then leading us into the 2nd marina and helping us park stern to. Now sitting in cockpit drinking a little wine and trying not to yawn! We have been warned that this is the festival of St Pedro and that there will be a fishing boat procession round the harbour at dusk with the patron saint of fishermen carried in the lead boat followed by fireworks and fun for most of the night - Woopie!!
30 June Carloforte
A things to note about Carloforte - not expensive and a comfortable marina but the information describing it in the brand new up to date Pilot Book is woefully incarcerate! Yes there is water on the pontoon but it is non portable! Suddenly showers in the boat were an issue... The fuel dock has less, apparently much less than 2 metres so re-fuelling is a jerry jug job. (We had not burnt much from Mahon so not too big a problem) Eating out is not cheap and despite the vast choice we did not find a bargin... The laundry - wash n dry - is very expensive but there are DIY machines in the marina...
31 June Carloforte
Looking at Weatheronline and the Italian (excellent) site http://www.eurometeo.com/english/meteomar has not been encouraging. It is a day - night - day to Palermo so we need 36 hours of favorable winds and they are not happening.
1 July Carloforte
Took the washing to the shop in the middle of town for a wash and dry.... Well done but certainly not cheap! Wind still 4-5 hard on the nose for Palermo. Using the AIS web site https://www.vesselfinder.com I watched a yacht parking up in the inner harbour of Palermo and emailed the boat yard to see if I could make a reservation. They came back in English and quoted 60€ + tax a night and said I could reserve a couple of days ahead and reserve a berth. They felt it was important to do this.....
2 July Carloforte
Found a pleasant cafe restaurant in the town on a side street. Did some window shopping - This town survives on tourism by Sardinians coming from the mainland to visit for the day. Been blowing hard all day making it hard for 'chartered yachts' to park up.
3 July Carloforte
Went back to the little restaurant and it did not seem quite as nice but the weather forecast has improved overnight and we should be able to leave tomorrow! Hurray! Bored of Carloforte. (maybe we should have just tried to 'coast' around to Cagliari which is about 60 miles on but this is a major city and the marina prices are upwards from 100€ a night whereas Carloforte is 1/3rd of that. Emailed the Palermo boat yard to reserve us a place for the 6th July for a few days.
4 July Slip Carloforte
06.15 and we drop the lines to motor out of Carloforte. There is no wind but at least it is not on the nose.
12.00 SE5 perfect - Passing Cagliari - really very little sea traffic - a nice morning
18.00 WSW3 flat sea - no shipping in sight but 30°on deck and 34° below... Motor sailing.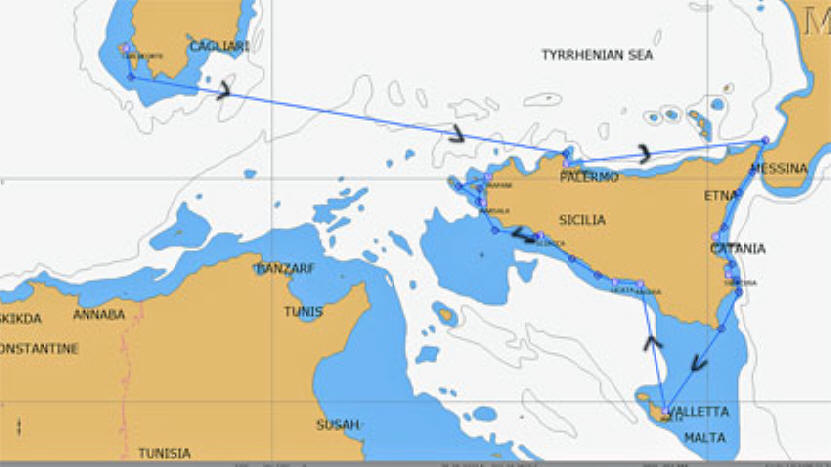 5 July
00.01 Saw a coupe of white flares an hour apart. Surprising little merchant or fishing boat traffic showing on the Radar and AIS.
12.00 Saw one merchant ship far off and one turtle not so far off
15.00 Flat calm - motoring. Saw 4 turtles during last hour. Hot - windless - burning fuel.
00.00 Suddenly got really busy with merchant ships and fishing boats everywhere not to mention lots and lots of dolphins. Clearly Sicily is a popular place!
6 July
03.00 Merchant ship passed us at half a mile seemed closer! Land Ho! The lights of Sicily off to Starboard!
Arrive Palermo - Sicily
07.00 Entered the main harbour of Palermo and made our way round to Starboard into YC and boatyard area. Nobody around as we motor around so we get on the telephone (mobiles are used in boatyards in most Med countries rather than VHF) and the nice lady says they will be with us soon to help us park up. Half an hour later a figure appears who waves us stern to a pontoon and comes aboard to help us tie up. He then says this berth is only temporary as the boat yard pontoons are full and as soon as the rest of the staff arrive they will help us into the berth they have kept for us.. Help us? Mmmm
09.00 The same chap comes back (he is in fact one of the owners) and he indicates I should get off and look at the berth he has for Paw Paw on the other side of the pontoon. Ouch! absolutely impossible. No space at all between that side of the pontoon and next one down. Not even a boat length. He indicates that he and his merry men will warp us in and it will all be OK. What the hell! Seems confident and I decide to give it ago. The guy stays on board as we slip out of the berth and round the end of the pontoon and line up to go astern between the two pontoon rows of boats - must have had at least 3 ft either side!
Actually it works fine - clearly these people do this all the time and are equipped with short warps with loops in them and stout boat hooks. With some bow-thruster use and 'warping' techniques we slide into the berth. Terrific! Electricity and water on the pontoon EXCEPT the water is not 'portable' it is only for washing the boat. Mmm.
The 60€ +tax becomes only 60€ if we pay cash. Shower with as little water as possible - check in at office and head for town.
For my sailing books and French canal guides please go to
7 July Palermo
Bit of a hike up a dusty road then a giant dual carriageway and roundabout then a long street market for tourists, into town. Bits of the remaining architecture are stunning but much of the city is underwhelming as it was badly knocked about during WW2. The place is busy and buzzy with tourists but actually somewhat disappointing.
8 July Palermo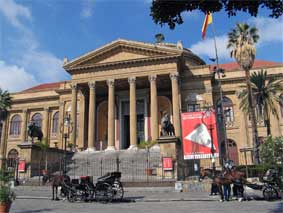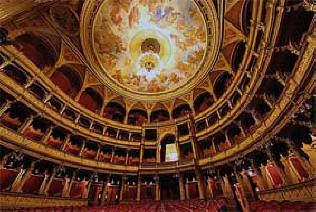 The highpoint of the visit was the Opera House. The steps up to the entrance are where the Godfather was shot and indeed all the scenes for the Palermo part of the film were shot in this city. The 'tour' with an English speaking guide (actually multi-linguel) was worth every cent of the 8€ each. This is the 2nd biggest opera house in Italy and the interior is just wonderful to see. The roof still comes off at night during performances to keep the place cool as air conditioning is bad for the singers throats. The 'Promade' where Nelson 'wooed' Emma still exists but is so busy with traffic and modernised I think they would hate it today. There are moments in the town which take your breath away with the beautiful sights but most of it is post war drab. An excellent supermarket is 4-500 metres from the boatyard but best of all it delivers FOC to the boat if you buy more than 50€ worth of goods. The boatyard office also arranges laundry- wash and dry - inexpensive and they too deliver to the boat. A slightly disappointing visit made worthwhile by the Opera House but with so much more to come we arranged with the boat yard for the 'merry men' to be with us at 08.00 so that we could fuel up and try to make the passage round to Catania in 36 hours.
9 July Slip Palermo
08.00 and the boatyard crew carefully help us warp out of the berth, and the yard owner is picked up by a dinghy, as we head to the YC fuel berth. then out of the harbour towards Messina.
12.00 Calm sea - burning fuel we just purchased
10 July
00.01 Visibility poor. Can see loom of vaious volcanic islands to the north.
03.00 Just dodged round little 'Merry Fisher' fishing boat without lights!
Straights of Messina
06.00 Contacted Messina VTS who had us already on AIS + Radar.
We checked in with them giving our destination - Catania, province - Palermo and persons on board - they wished us Bon Voyage and instucted us to keep watch on VHF 16. It appears to be very worth while to check in and be free from having to keep out of the VTS area. In places there is not much room between it and the shore. At one point we were forced deep into the S/B traffic lane because of all the little fishing boats.
07.05 Tide is with us and we are making almost 9 knots over the ground!
16.00 entering Catania and tying up in one of the yacht clubs. Saw several large vessels - ocean going tugs with hundreds of life jackets hanging up to dry and portacabin loos on deck. Clearly part of the economic migrant rescue service.
Avis car hire is just across the road from us and we book a car for the following day to visit Etna and tour of Scilly plus ruins....
11 July Catania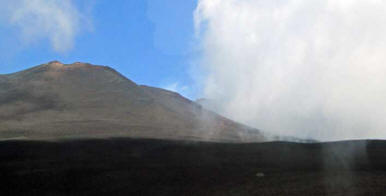 In the hire car with our own GPS we find it difficult to fine Etna. Tickets to ride the lift and buses to near the top are ridiculously expensive but getting there in your own hire car saves a fortune! One thing to avoid is, they want to sell you a 'guide' ticket along with the tickets for the ski lift and the 4 wheel drive bus tickets. When the bus drops you at the top there is frankly not a lot to see after all the acres of lava you have travelled over, and the 'guide' only really tells you about eruption dates. Interesting, but in fact you can walk round this crater yourself following all the hundreds of other (guideless) tourists, and a guide for 9€ a head is not value for money, when you share him with 20 others!
Very very enjoyable and informative day. Well worth the effort even if a lot of walking was involved. In the late afternoon we wandered into town through some pretty 'downbeat' areas - happened by an orchestra practising for an open air concert which was charming and found the 'centre' of town which is pedestrianised, to be lovely. Enjoyed a late lunch - early dinner in one of the many restaurants/cafe's. Compared to Palermo this place is lovely and easy to enjoy!
12 July Catania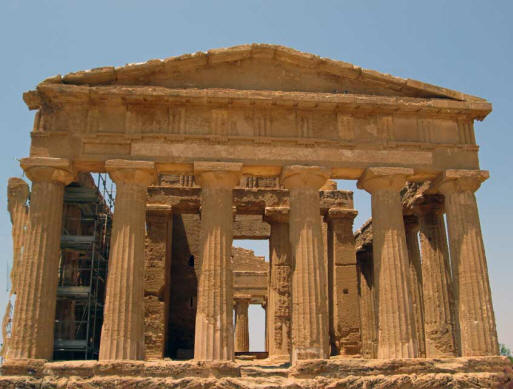 2nd car hire day and we are off to Agrigento the extensive Roman ruined city. It meant a long trip though the centre of Scilly which was interesting and we arrived thanks to our own car GPS around noon. Modest entrance fee to a magnificent ancient Roman city - Hot and dusty but very worth while and enjoyable. Got lost on the way back because of extensive road works and returned the car a little late then wandered back into the centre of Catania town. Lovely evening.
13 July Slip Catania
09.00 slip Catania and head south for Syracuse.
Arr Syracusa 13.30 Parking up in the marina just outside Syracuse for a mere 75€ a night and metered water and electricity. Walk ashore and visit. When I was last here some 20+ years ago it was delightful and charming. Now it is full of expensive cafe's, bars and restaurants, full of folks in 'chick' clothing looking elegant and looking at each other and shops with clothes and tourist junk at prices to make your eyes water. What was once a lovely quaint backwater has become a middle class nightmare. Couple of drinks and back to the boat! This is not a place for ordinary people rather for wealthy tourists.
14 July Slip Syracusa
09.30 pay the substantial bill in the Syracuse marina and move out to the anchorage where we should probably have spent the previous night - the only problem is going ashore there it is difficult to find a place to leave the dinghy. The canal is probably the answer but you certainly need to find a way of locking it to the shore... Pity as once this was a lovely anchorage or stern to the quay and there were stacks of secure places for the dinghy. Now 'modernisation' and a development of the quayside and a new marina have taken all the good spots. I imagine when it is all finished in a couple of years it will be better but still expensive. Syracuse is the now highly sophisticated 'quaint' little town of Scilily.
12.00 pleasant afternoon on the anchorage
17.15 Up anchor and off towards Malta
15 July
00.15 Surprisingly busy with many fishing boats and tankers
03.15 Busiest watch since we started - coming from all sides (And close too!!!)
Arrive Malta
08.30 Entered Valetta harbour and 'site see' the city from the boat. (Marina does not open until 09.00) Stooge around then exit harbour and head for Msida Marina next door.
09.30 Parked up stern to behind the marina breakwater and plugged in. Bit of a hassle trying to raise the marina on VHF and once again easier by mobile phone....
Fresh water a plenty, so we shower and head into Valetta by bus having surfed the net for the best car deal we arrange for one to be delivered to us the day after tomorror at the berth so we may explore all the island and Comino.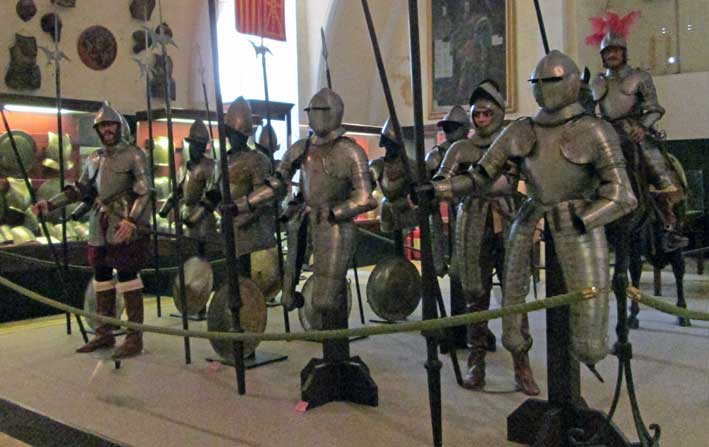 Valetta town is just lovely. Once again full of tourists many from cruise liners. The cathedral is beautiful and magnificent even if you are not a believer. The Knights of Malta museum has been modernised since I was last here and to my mind less impressive but well worth the visit. The arms and armour are fascinating and the history is well explained. Knights Templer history is everywhere in this city and is surprisingly similar to modern politics in this part of the world. Not a lot has really changed when you consider what's happening and could happen today.
16 July Malta
Back to Valetta and visit more museums and galleries. The only bad decision was to visit the WW2 museum in a series of bunkers on the waterfront. Very dull and boring despite being 'jazzed up' by lots of audio/visual experiences. Bits of WW2 kit and descriptions of the bombing, Churchill's reasons for wanting to hang onto the island, and animations of the famous convoy that eventually gets the tanker 'Ohio' and one merchant ship into Valetta. There are several books on the subject and I immeiatly downloaded one into my Kindle. Interesting but the museum is still a pretty tiring, hot, dull affaire. It is a war museum and more bombing is eventually more bombing - it somehow fails to convey the experience these people went through despite all the computer animated graphics etc. Spend the evening pre-programming our car GPS to make a route through northern Malta towards Comino and around that island.
17 July Malta
09.00 hire car is delivered and we set off for the day. I had never visited the Malta outside Valetta and had always imagined a green and pleasant land which might be a place to retire to even! A brilliant place from which to cruise central and Eastern Mediterranean. -- Sadly not so. There is a pretty uninspiring suburban sprawl to drive through and a lot of that is because of the bombing in WW2 and the architecture that has survived is not particularly inspired. Very similar, probably not unsurprisingly to interior Sicily. There are several beach resorts full of holiday-makers from the UK and the rest of Europe together with blocks of holiday flats. Actually the fishing villages/towns do retain some charm and we lunched in one at reasonable prices and purchased some nice things in the local junk shop.
Malta is so small we found ourselves at the ferry to Comino terminal within a couple of hours and purchased a one way ticket. Actually we did not purchase a ticket but simply joined the queue of cars waiting for the next ferry (every 15 minutes or so) and drove off on the other side still without paying it having been explained to us that you buy can only buy return tickets from Comino to mainland Malta....
It is tiny and the GPS route I planned enabled us to drive all round the edge of the island and several times through the town in the centre in about 90 minutes with lots of stops to get out and 'explore'. Certainly it is prettier than central Malta but....... We headed back to the ferry - late lunch then back via a splendid supermarket just outside Valetta to Paw Paw.
18 July Malta

09.00 and because we had booked the car for two days we decided to drive around the Southern part of Valetta and the island despite it mainly seeming to advertise a fuel refinery! Thank goodness we did! The southern part of Velatta is just lovely and all the inlets and creeks surrounded by lovely period houses. The one way system is challenging even with the GPS but we saw a truly smart and elegant side of Malta and very few tourists. The fishing town/village which 'host's the refinery/depot is just lovely and we spent several hours wandering around. Charming traditional fishing boats beautifully cared for and painted with tiny tenders to carry the owners from the quayside to the bigger boat on it's mooring. Absolutly charming and a delight. So glad we dedided to use the car to visit southern Malta rather than give it back a day early!
19 July Slip Malta arrive Ragusa
08.50 left Msida Marina heading towards Ragusa just across the Malta Channel.
17.00 Park up in Ragusa. Huge marina that is almost empty. Mega walk to the office although a marina golf cart gave us a lift back from checking in and paying a massive 78€ a night + 4€ for internet! There is not a lot here - only one cafe and miles from anywhere - The town of Ragusa is a half hour but ride away but didn't seem worth the effort. Really nice a friendly staff but we resolved to leave the following morning.
20 July Slip Ragusa arrive Licata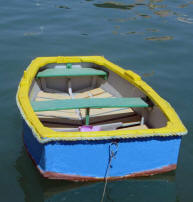 08.45 slip Ragusa. Keeping fairly close inshore it is very shallow as are all the waters between here and Trapani. Watching the depth sounder all the time!
15.00 into Licata having sailed most of the way.
This marina is everything Ragusa isn't. There is an excellent supermarket within a small shopping centre next door. A short walk down the road to a street market which leads into a lovely old town. If I was going to winter somewhere in Sciliy then this place would be prefect. Probably the nicest place we have been to so far in Sicily. If you like relatively unspoilt traditional places that have not really moved with the time but with all facilities.
21 July Slip Scita arrive Scicca
07.20 slip Scita and have brilliant sail.
09.30 wind vanished and the mainsail gets jammed and we can't furl it - I really hate this in-mast reefing system we have. Battle away with it as we motor along and manage to get it fully out again and then furl it tightly. Part of the problem is that we are a bit boated out and we both agree that we need to get to Trapani and return to Mahon in one hit. Originally we had thought of going vial Cagliari but now we just want to get back to the Balearics then home to Gib.
15.00 arrive Scicca - All a bit 'hill billy' but apparently there is a 'free' bus to town. We are knackered and Paw Paw badly needs a hose down and we need to sit in the cockpit with a glass or two of cold white wine and shoot the breeze...
22 July Slip Scicca arrive Trapani
08.50 slip Scicca and head out on the longish passage - 65 miles to Trapani. NNW4 and just able to sail
13.10 30-35 knots on the nose! Motoring but only making 3 knots - Consider aborting and going into Marsala despite shallows all around and put waypoint into GPS.
14.00 wind shift and we can motor-sail plus 'legs' around sand banks and islands enable us to sail properly occasionally!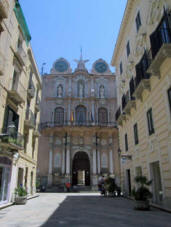 17.30 Enter Trapani harbour again taking bearings to avoid shallows. Big commercial harbour. We are met by rib telling us they have space in their marina but we explain we need to top up our fuel tanks (the next planned stop is Mahon) Mainly using the donkey to motor-sail we have averaged 2.53 ltrs per hour since leaving Palermo with full tanks. The harbour plans in the expensive new Italian Islands Pilot book bore no relationship to the reality yet again!
18.00 parked up stern to in delightful marina which also has fork lift truck facility to lift mo-bos onto stacks, a cafe at the end of the pontoon with excellent free wifi, a really friendly and pleasant atmosphere and the gift of a fee bottle of white wine!!!
23 - 26 Trapani
The weather forecasts for the coming days around the coast of Sardinia are all predicting F5-6 on the nose. Instinctively I do not believe in forecasts for more than the next few days but clearly we are going to be stuck here for a while. Mediterranean forecasts are dodgy at best because of the problems of so much land effect but I certainly don't want to try to head up the Sardina channel into mistral from southern France and the winds between Sardinia and Scilly are generated by different factors.
If you are going to be stuck somewhere in Sicily then there is no better place than Trapani. It is everything that Palermo (about 15 miles away) and Catania is not. Once you leave the fishing port area it's a short walk into the most delightful town. Lovely architecture, nice shops cafes and restaurants all reasonably priced. A truly delightful place to wander around and visit.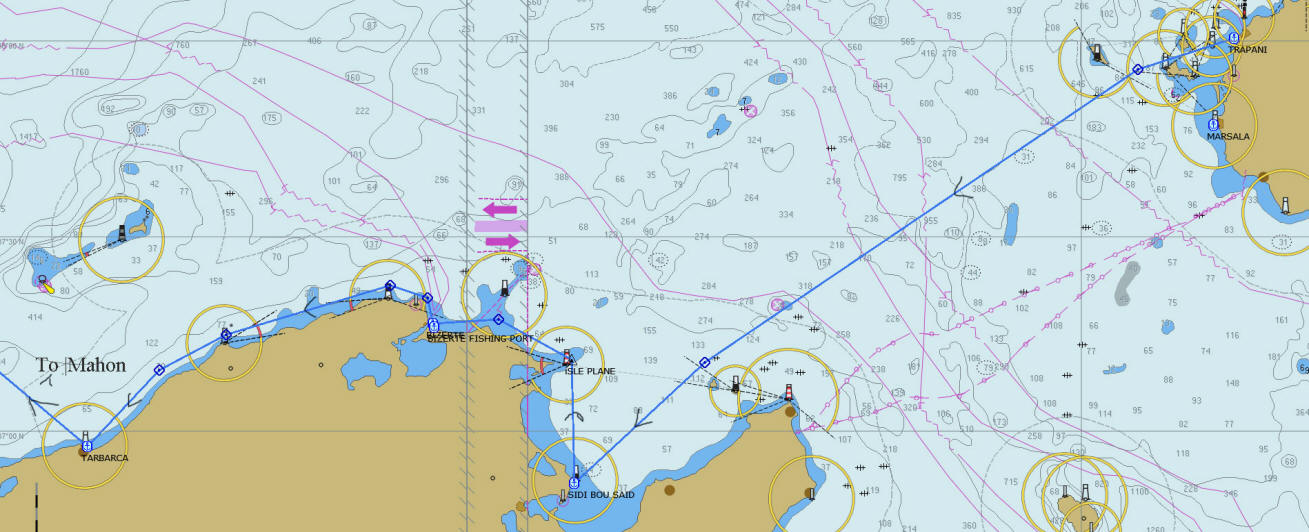 Watching the weather systems it is becoming more and more apparent that it is going to be very difficult to find a 'window' round the southern end of Sardinia onto Mahon. Looking at the charts they confirm the strategy I used last time to get west from this part of the Mediterranean of going along the Tunisian coast to Tarbarca then north west for a day/night/day to Mahon. The decision to take this route was of course coloured by the terrible massacre on the beach at Sousse. The Foreign Office web site said only 'essential' visits to Tunisia should be made and then went on to list some boarder posts that were no-go areas. We discussed it long and hard. The closest entry port is Sidi Bou Said which is a very wealthy marina close to Tunis and next door to the (ex) presidents palace. Some of the best roman remains at Carthage next door which we could skip. 50 miles along the coast is Bizerte which should have completed it's brand new marina and is a sophisticated town with Tarbarca - close to the Algerian border a fishing port which has good facilities for yachts to tie up.
My experience of Bizerte in the past was that it had not been overly welcoming so despite the good press given to it in Graham Hutt's excellent pilot book for North Africa. (His knowledge of this coast is unsurpassed and the information in his book practical, correct and relevant unlike the Italian Waters Pilot book which never ceased to amaze with its inaccuracy. My 20 year old version was no worse.)
Clearly to depart from Tarbarka left only a 275 mile leg to Mahon bit more than 36 hours problably and entering that port at night presented no problems, as opposed to a 400 mile leg from Trapani to Mahon with the problems of of trying to find two weather windows and what appears to be constant unfavourable winds around southern Sardinia.
We felt on balance that our visit to Tunisa was 'essential' and provided we did not visit any tourist sights or stay for more than one night it would probably be safe. Each 'leg' along the Tunisian coast would be not more than 60 miles and we could refuel in Tarbarka. Best laid plans....................................
27 July Slip Trapani bound for Sidi Bou Said - arrive Marsala
08.30 slip Trapani (tight fit between two other boats not helped by the fact I forgot to undo one of the two stern lines!!! Not a good start! With a forecast for favourable winds headed out between the islands for Tunisia. After an hour or so of 30K on the nose gave up and sailed easily into Marsala. Shallows in this area made it all quite rough! Very friendly and helpful yacht club and we were helped to moor up in a small stern to berth.
Forecast for next day - awful!
28 July Marsala.
Pleasant town famous for a wine made out of almonds. Lots of 'brewery' tours on offer but possibly not the most inspiring place in all of Sciliy - forecast good again for fair winds to Tunisia.
29 July Slip Marsala
09.00 slip Marsala but within an hour the wind is back on the nose but decide it may be a 'local' effect so keep going
13.00 Still 20K on the nose + gusts.. Keep motoring to windward - want to get home!
17.45 Close hauled bashing to windward - approaching shipping lanes
30 July
00.01 through shipping lanes - quite busy and heading for Tunisia
03.00 Lots of fishing boats around - none with AIS and very poor radar image
Arrive Sidi Bou Said
07.00 Sidi bou Said marina is in sight as are several merchant ships heading for Tunis and Tunis roads. Lots of VHF traffic in English. It all feels pretty normal and safe.
07.15 Try to raise marina on VHF but no luck. Identify buoyed channel between the sand bar and the shore and slowly make the approach with 3 metres showing on the echo sounder and shallowing.
07.30 Still trying on VHF and going really slowly as we approach the entrance between the marina breakwaters and go gently aground in the middle of the channel. back off and try to port and go aground again then to starboard with same result. The marina has a pretty desolate air about it with several large yachts and mo-bo's looking very unused. Clearly the marina entrance has silted up badly and since the revolution no money has been found to dredge it.
Graham Hutt's excellent pilot book says there was a marina almost completed just to the north so we head there.. An abandoned looking coastguard patrol boat is tied up in the entrance and the place is totally uncompleted and empty. We decide to head north for Bizerte gong round the outside of Isle Plante to avoid possible tunny nets. I get the feeling that we are 'very alone'!
& Bizerte
17.00 enter kBizerte harbour - big place - there to starboard is a big modern marina that looks almost completed and deep inside there are yachts and motorboats tied up. We approach and enter via the buoyed channel but once inside we are told the marina is only for Tunisian yachts, there are no 'officials' there and all foreign yachts must go to the fishing port just to the south of Bizerte harbour. No point in arguing so sadly we motor out of the lovely nearly completed marina and the harbour to enter the fishing port and have considerable problem establishing contact with anybody on VHF or ashore. Eventually a smart looking civilian waves us into the only alongside space in this packed and busy fishing port and we park up. (Before leaving Gib we had purchased two packs of 200 cigarettes to be used as 'gifts' for the Arab part of this cruise. We distributed 'gifts' to every official we encountered, customs, police, military, and with one exception, a refusal, they were gratefully received and together with the fact we speak good French this acceptance of custom and practice, certainly eased the way.
Various 'officials' - port police, customs, immigration, port authorities arrive and are very courteous assuring us that we are 'safe' here. The events of Sousse Beach have had a traumatic effect on the entire population who thought they were immune from ISIS and the 'bearded ones' as they describe extreme Muslims.
None the less we 'strike our colours'!!! Well take down the British Merchant flag and stow it below.
31 July Bizerte fishing Port
Where we are laying is actually the unloading dock for fishing boats to move their catch into the wholesale fish market beside us which opens for business around midnight and closes again around 09.00. Heavy lorries, trucks and vans are arriving to load and transport the produce of this important fishing port to other places. Small fishing boats squeeze in-between the tiny space between Paw Paw's stern and the boats tied up alongside or alongside. Very skilful, careful and courteous but inevitably carrying boxes of fish across the deck makes our attempts to sleep - challenging.
We need Tunisian dinard to pay the port fees of 40d a night (about £10 I think) and to buy food as there is some dreadful weather coming in and we are going to be here for a few days. Just what we did not want to happen in this potentially dangerous country.
Having no local currency we walk into Bizerte and find a cash machine then through the very lively and colourful town to a 'up market' cafe restaurant where we can get on the internet and I telephone the British consulate in Tunis on their local number. whilst I feel Bizerte is probably fairly safe for us I am concerned for news of Tarbarka which is very close to the Algerian frontier and not too far from one of the crossing points that the Foreign Office web site describes as a no go area.
The young lady on the end of the phone just keeps repeating the mantra - 'You should only visit Tunisia if it is essential'. I explain we are already there and need advice and information but she just repeats 'You should only visit Tunisia if it is essential'. which is not very helpful. I ask her about Bizerte and Tarbarka but it becomes clear she does not know where they are. I realise that I am actually talking to a call centre in London to someone with absolutely no knowledge of the country whatsoever. She confirms this and attempts to put me though to the Embassy/Consulate in Tunis but is unable to connect. She takes my (Spanish mobile) phone number and says she will get somebody to call me back.......
In Graham Hutts African Pilot he says it is possible to buy wine and beer in the Mono-prix supermarket in town and a couple of other shops by the back door. We need to buy some stores for the next few days and try to buy alcohol as well. Absolutely impossible. One of the things the 'revolution' has changed, is that there now is a much stricter adherence to the Muslim religion.
We have a very pleasant lunch in the upmarket restaurant with some wine for almost no money due to weakness of the Tunisian dinar against the pound. There are other wealthy Tunisians dining in this place and we feel pretty safe and secure. As advised by the port officials we take a taxi back to the fishing port - probably a couple of kilometres for 3d... The taxi driver said that the 'revolution' had so far not brought any of the benefits it promised. He was happy that the ex president was working with the new foreign affairs minister as the Ex President was well respected abroad and a good man... Interesting.
17.00 we get a call back from the British consulate and I speak to a very helpful lady. She says since the beach incident there have been many arrests and a couple of gunfights in other towns thoughout the country as the authoriteis try to put a stop to the terrorist activities. We discuss various 'security' matters and she says the best advice is to avoid 'groups' of foreigners and not to visit tourist sights and although security for the important officials at the embassy and indeed the buildings have been considerably beefed up people like her are operating fairly normally but taking all precautions. Bizerte has had some terrorist arrests reported in local press and that Tarbarca would appear to be pretty OK with no information it presented a greater threat to us than Bizerte.
18.00 Back on board and politely refusing port officials and fishermen's requests for 'whiskey, we sit in the cockpit looking at the brooding sky full of black rain clouds and threat. An hour later it starts to bucket with rain and the wind actully gusts to 60 knots in the port and Paw Paw is keeled over as are all the fishing boats. God help the Tunisian fishing boats at sea. They are over crowded wood construction without VHF, life raft or lifejackets. If the founder I doubt there is any hope for the crew. (later looking at weatheronline's precipitation charts it is apparent that these storm cells occur fairly frequently along this coast)
1 Aug Bizerte
Back into town by taxi. Cannot sit in the fishing port all day. Nice lunch again in the same restaurant at the same time as checking out the weather which looks good for tomorrow.
PM return to the boat - pay our harbour dues (These are charged from the day you arrive to midnight. Then from midnight of the next day to the following midnight irrespective of when you leave which means you pay for the day you arrive and the day you depart as well as any 24 hour periods in port) The Police, Customs and Immgration officials stamp our transit log and passports so we can depart early. We are told we must call in at the police before leaving to get final clearance but that they are open 24/7 so its no problem and the office is only 100 metres from the boat.
2 Aug Slip Bizerte
05.30 local time present ourselves and papers to port police who are very closed!
06.30 finish getting port police clearance but are told we must wait for customs clearance on the boat before untying.
07.30 Very pleasant customs guy arrives and accepts his 2nd pack of fags and waves us goodbye!
12.00 Wind goes hard on the nose - so what's new!
Arrive Tarbarka
20.00 pull into Tarbarka which again is pretty shallow in the approach but reveals itself to be a much more modern and sophisticated place than I remembered from 25 years before.
We are waved into a berth alongside a Netherlands flagged steel yacht and we come up into the 20k of wind and moor up alongside. The skipper of this centre cockpit yacht berates me for coming alongside bow to bow as it encroaches on his privacy. I tell him in the nicest possible way to f*** off. It transpires he and his lady crew are Moroccans heading east up the African coast and despite the flag it is a Spanish registered.
Tarbarka is a major holiday resort for foreigners and Tunisians. Sadly now there are only a few French nationals there on holiday and 4 out of the 5 hotels in the area are closed. Last year they had over 5,000 Italian visitors but since the Beach Massacre, none.
We are visited by the various 'officials' and we distribute the small gift of a pack of fags to each and in return they sign our papers and go away. The two local marineros who run the parking for the pleasure boat part of the port are very friendly and helpful and assure us that we are safe and tell us which bars have the best wifi connections.
Dinner out and onto the internet for emails, a forecast for Mahon and lovely Spain!
3 Aug Tarbarka
Paying port fees etc in Bizerte and needing to top up with fuel we leave the port tourist area and go a short distance into the old town to get more dinar from the cash points. The port officials indicate that there will be higher charges and we need to put around 200 litres into Paw Paw's tanks os despite the fact there is no way really to change back Td's into pounds sterling I get more than I think we could possibly need. Compared to EU places this is all as cheap as chips!
One of the Marinero gives me a small Tunisian courtesy flag and advises me to hoist it. We motor across to the fuel dock and pour in 175 litres at .60€ a litre which indicates that we have been burning around 3.5 litres an hour.
Back alongside the forecast is good for a departure tomorrow. A Tunisian police car arrives and says we are breaking the law and will be fined for not flying a Tunisian courtesy flag. I point to the flag on the starboard hoist and he says that we entered the port not flying the flag.. I apologise and say ours was stolen in Bizerte and I had not been able to replace it... He drove off -not a happy bunny - I had forgotten the basic rule to hand all officials a small gift when they provide a service or 'help' you! A big thank you to the Marinairo for saving me the fine!
The dodgy Dutch/Spanish/Moroccan boat berthed inside us started to clear customs bound for Bizerte at 07.30 this morning and was still not clear at 14.00 - a pretty angry and disappointed bunny..... He had been ordered amongst other things to purchase a Tunisian courtesy flag but could not find a chandlers. He is an Arab and should have known about the value of 'gifts' and respect - but hey - who knows what problems he was having with Tunisian officialdom.
4 Aug Slip Tarbarka
06.30 Start clearance proceedings by visiting Port Police - The 24/7 office is of course closed but eventually we wake them and are invited in to view body armour and assault rifles laying around clearly in easy reach of the sleeping on duty officers who also sport automatics as part of their uniform.
We are told we must purchase an exit visa 'official stamp' from the customs and immigration officials office a small distance away for each of our passports and that they will cost about 40d each. We must bring these 'official stamp' back to the police office who will stick them in our passports and stamp them.
We eventually wake the customs and immigration and a junior official finds our papers speaking occasionally in Arabic to his boss, who is in a darkened room and responds with grunts and is certainly still in bed. The price of the 'official stamps' are apparently 100d each. Thank goodness the fuel was less than anticipated as all I have left in my wallet is 200d. What luck! We are handed to postage stamps and for the first and only time the official refuses my small gift. We return to the police office and mention they were 100 and not 40 each the news of which is treated with a shrug and an assault rifle is taken off the desk so there is room for our postage stamps to be stuck in our passports and stamped. One of the policemen then asks if I have any Tunisian Money on me and I say no.. He looks cross and angry and Louise says show him your wallet which I do as truly the stamps had cost the very last of my dinar. I hand the last couple of packets of fags to the policemen and they wander down to Paw Paw with us to 'see us off'.
07.30 I pull down the borrowed Tunisian courtesy flag and pop across the road to stuff it behind the door handle of the kind Marinero's office. Another 24/7 operation closed at this time of the morning - and why not?
10.30 We had been concerned that the rhumb line course to Mahon took us into Algerian territorial waters and last year we had heard them arresting a French yacht for entering their territory. Algerian coast guard started calling the yacht in our lat and long. I answered and they requested our nationality, destination, providence and number of people on board then finished by wishing us a 'good watch'.
Louise noted in the log: 'Close haulish. making good progress towards Mahon with Africa disappearing out of sight - A mere dusty/fishy memory'!
18.00 still making6.5 knots towards Mahon
21.00 Wind has not dropped as forecast and we are still making 6 plus knots
5 Aug
00.01 Off Southern Sardinia and going well
03.00 Passed a couple of tankers quite close
10.30 Still going well with fair winds - ETA now dawn tomorrow
21.00 Wind now on beam and dropped to F3 - Motor-sailing
6 Aug
03.05 wind down to F2-3 motoring
Arrive Mahon
07.30 entering Mahon harbour and calling up Marina for berth on floating dock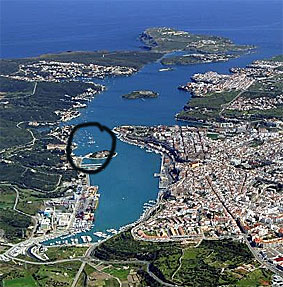 07.45 Floating dock looking pretty full except for a couple of possible places. Called marina on telephone and got a very grumpy and unpleasant night watch Marinero who told us to go away until mid-day then refuses to speak further and will not acknowlage either VHF or telephone calls!
8.00 Stooging around floating dock area wheb night watch Marinero comes by in Rib - he refuses to acknowledge our waves or presence. We have used this marina many times over the years out of season and feel deeply disappointed at such a rude and unpleasant reception.
08.30 very big cruise ship is coming in heading for the cruise ship terminal so we move behind the floating dock. A yacht leaves the floating dock and a rib with a dayshift young Marinero, with the bread for the boats arrives, and helps us park up in the space left by the early departing yacht. Now we know how the system works for early arrivals which was all we wanted to ascertain from the grumpy, rude, old night watch Marinero.
7-10 Mahon
We are again flying the British Merchant Ensign and have the Spanish courtesy flag hoisted at the starboard spreader. We have showered and sent the laundry off with the marinero in the rib and are relaxing. It was somewhat stressful being in Tunisia for longer than intended and back in the Balearics we feel we are almost home.
This is our first time in these islands in high season and the crowds of charterboats and other tourists are a bit daunting.
We could passage direct from here to Almirimar or Cartagena but I am tired and feel it would be nicer to make the passage of the last 400 miles or so in relatively easy stages so we decide to just overnight to Andraixt in Majorca which we have both enjoyed visiting and then deciding how to carry on back towards Gibraltar.
we telephone then confirm by email for a mooring buoy to be reserved
Enjoy a relaxing few days waiting for a good weather window. For the first time we are cold during the night with only a sheet over us!
Circled is where the floating pontoons are in Mahon harbour...
11 Aug Slip Mahon
09.30 slip Mahon
21.30 lots of fishing floats around as we leave Majorca close to starboard
12 Aug
03.00 very dark night making it difficult to spot lobster pot floats as we pass Capo Blanco
06.00 Off end of Palma Bay. Ferries and ships everywhere coming from all directions towards the port. Really quite stressing with several close encounters
07.30 Arrive Andraixt
Into harbour area and tie up at fuel dock waiting for it to open.
08.30 Fuel up but learn the reserved buoy will not be available before 12.00 so we move to anchorage and drop the pick.
09.30 See boats leaving the buoys and call marina office who send a rib with a marinero and we up anchor and tie up to a YC buoy and inflate the dinghy
13-17 Andraixt
Torrential rain - tropical storm type weather with severe gusts to 40knots.
Waiting for fair winds to Cartagena but enjoying the relaxing atmosphere of this place
Enjoy the pleasures of this lovely harbour including swimming off the stern and checking the anti-fouling and prop. All good
18 Aug Slip Andraixt bound for Cartagena
Dawn and having sorted the mooring lines out the previous day before deflating the dinghy we slip easily away from the buoy. Weatheonline is showing another line of squalls coming into the Majorca area but not extending very far south and certianly not to Ibiza which we will be passing in the late afternoon.
Genny up and tramping along!
18.00 Mega big thunder clouds and rain astern as we pass between Ibeza and Formenterra. Really threatening and heading south!
19 Aug
00.01 thunder storms all around - lightning everywhere and all a bit daunting.
06.00 Still horrid with nasty cross sea. Very rock and roll
Arrive Cartagena
15.00 Alongside in Cartagena - one of the nastiest passages of the cruise.
20 Aug Cartagena
Nice day in this lovely town - good forecast but more bad weather and on the nose weather is forecast so we must make some progress tomorrow.
21 Aug Slip Cartagena
08.30 slip Cartagena
arrive Garrucha
15.00 Alongside in Garrucha
22-24 Garrucha
No chance of leaving to round Capo de Gata as the winds are hard on the nose and F5!
Party with other boats - 6 to 8 guests in Paw Paw's cockpit - nice people, great guitar playing, and a lovely time in the marina with Brit, Dutch, French, Spanish crews who are also waiting for more clement weather whilst merchant ships load with sand upwind of us!!! Ugh
25 Aug slip Garrucha
06.00 slip Garrucha with a smile as on waking, the visitors berths are all empty, as everybody has left before us!
17.30 arrive Almirimar
26-29 Almirimar
A very strong Westerly airflow - a Poniente is blowing and there is no chance of sensibly motoring into this for 36 hours without having a horrid time. Not awful as we do like being in Almirimar and it is not the worst place to get stuck in at 22€ a night.
We just need it to break for 24 hours so we can make the last leg of our cruise back to Gibraltar
30 Aug Slip Almirimar bound for Gib
07.40 Slip out of berth into E4-5 and sail on the last leg towards Gibraltar
12.20 Barometer dropping fast becoming ENE 5-6
18,00 Barometer dropping - wind of 20-25 hard on the nose
18.30 making 3 knots at 2200rpm Velez Malaga is off to Starboard and we lay course for this port
Arrive Velez Malaga
22.00 stern to in comfortable berth. After tramping along with a beam wind, we arrive in Velez Malaga and in response to our VHF call, we are shown a berth into which we back by torchlight.
31 Aug Slip Velez Malaga
Pay the bill do some shopping then slip at 10.30 to use a brief weather window to get us as far as Benalmadena before the Poniente sets in again!¬
Benalmadena
13.00 having made at least a little progress towards home. We are given a berth on the outside of the first quayside. The wind is calm at this stage and parking up is not a problem/
1st Sept Benalmadena
The most terrible night we have ever had in the Mediterranean.
I am up most of the time placing most of the fenders on the stern and and doubling up mooring lines after 3 broke. It is not so much the wind but the vicious surge which affects this quay particularly. As well as the sickening jerks on the mooring lines we are rolling 30 degrees side to side.
Dawn: I call the office for help and they send 3 very tough strong marineros to pull tight my head line to haul us off the wall.
Shortly after they leave the bloke on the catamaran a few spaces down falls off his passeral trying to get ashore and we have to haul him up almost 8 feet from the water as the 'office' will not respond to requests for help. Thank goodness I can tie a bowline quickly!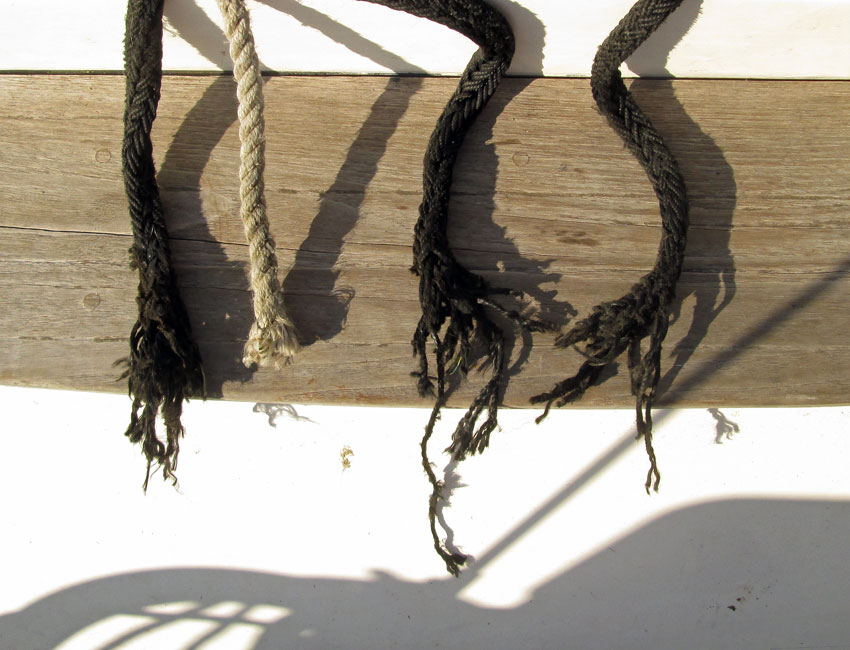 These are the 4 warps that broke during the first night!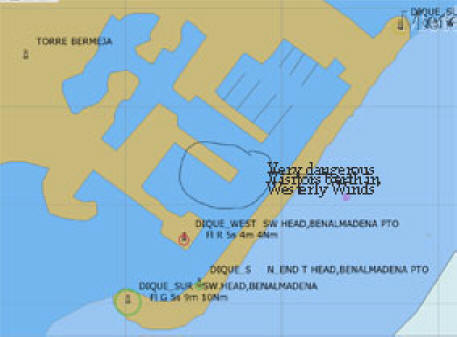 During the night the wind was only blowing around 20-25 knots - not a lot - into the harbour but the surge was frighteningly violent
2 Sept Benalmadena
Another dreadful night with more warps breaking and I fear the Paw Paw's cleats are going to pull out of the deck! Probably worse than the previous night!
At dawn the wind has dropped and there is little or no swell in the harbour but the boat is surging in and out - I ask the marina to move us to a safe berth as this one is dangerous both to us trying to get ashore and to Paw Paw as the conditions are the worst in a port that I have ever encountered anywhere including my circumnavigation!
Having threatened the marina manager with bad publicity in the local and yachting press he accedes to my request and we are given a place on an inside quay between two motorboats which is fine.
I would advise nobody to ever accept a berth on the pontoon marked opposite if there is any sort of an westerly wind indicated. They do have other berths......
We watched another boat which was placed where we were roll and surge all day and all evening then leaving before dawn - This berth is simply not fit for purpose as the marina manger eventually agreed saying 'climate change' had caused the surge to happen. Personally I think it is probably due to a lack of dredging and an westerly wind!
3- 5th Sept Benalmadena
Slept well with no fear of the boat damaging its stern on the concrete wall or pulling out the cleats. A normal and properly protected marina berth
6th September slip Benalmadena bound for Gibraltar!
08.30 slip Benalmadena and glad to leave this place without damage to Paw Paw or to ourselves
12.00 3 knots of counter current on the nose presumably due to Poniente blowing for so long. Alter away from rhumb line to Gibraltar and close the shore where the current disappears then resume course for Gib.
GIBRALTAR
18.00 into Gibraltar fuel dock to fill up then round to Queensway Quay.
It has taken as long to get from Cartagena to Gib as it did to get from Sicily to Cartagena!
1855 Back in our home berth with mixed feelings - a bit boated out after nearly 3 months but it has (with the exception of Benalmadena) been a lovely experience. Tunisia was a bit stressful but we got away with it, and the rest was a truly wonderful:
'summer of the year 2015!
END OF CRUISE
Actual Route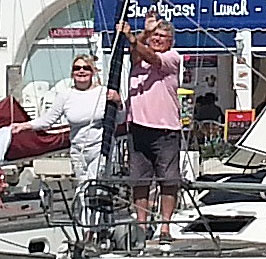 We sailed over 2,520 nautical miles in a matter of about two and a half months or more exactly 84 days. Not counting arrival days and departure days we spent 45 days approximately being tourists and looking round the new place.
Watch keeping is done three hours on three hours off and as Louise likes the Midnight to 03.00 it is always built around that. On day passages and in day time on longer passages we just split up the watch pattern into an hour or so or longer depending on how boring it is... Always remembering that Boring is good! Louise does not like 'cooking' at sea and it was so hot neither of us wanted 'hot' meals so she would often make sandwiches for the first and second meals and I would often be more ambitious and open tins of Tuna and Sardines...... We ate out at lunchtimes in Port and snacked aboard in the evenings...
For next summer we are planning to.............................
'GENTLE MEDITERRANEAN ROUTES TO THE ISLANDS'
details how to get from Gibraltar, or the end of the French canals, to the Islands we visited and on to Greece and Turkey, BUT withoug spending days at sea. One day at a time from marina to marina
Port/marina prices and how to do it in gentle one day sails.
For my sailing books and French canal guides please go to
I am pleased to say this web site is

who have been kind, helpful and understanding. I really recommend them