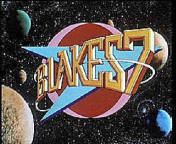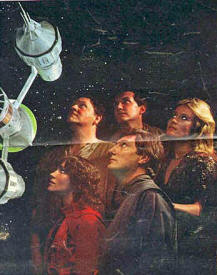 Blake's 7 was interesting to make and I was delighted when David Maloney asked me to direct the first episode of the first season and 3 other episodes - almost 1/3 of the opening series.
I directed the first episode
THE WAY BACK,
then the following
THE WEB,
PROJECT AVALON
DELIVERANCE
David Maloney the producer involved me and the other 2 directors - Pennant Roberts and Vere Lorrimer, in the basic decision making from the very beginning. The casting went very easily and I think we had a good different team of Actors. Certainly Gareth Thomas was an excellent choice for Blake - A very clever and imaginative actor he gave the series a gravitas it would not have had with a lesser artist.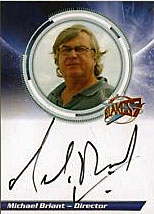 My visions for the Liberator were somewhat different from that of the others, including the talented set designer Roger Murray Leach. I really did not want to see steering wheels, or buttons or levers. I couldn't believe that space travel would have 'hands on control' - for goodness sake even today you can land an Airbus entirely by computer and they frequently do.
I didn't want a StarTreck type control room - I had this idea that the flight crew would sit or stand in a quiet isolated place possibly surrounded by darkness and communicate with the flight computer mentally or at worst by voice control. Inputting requirements and negotiating with the flight computer.... Although Roger M-L created a very imaginative flight deck and on the same budget that SOFTLY SOFTLY, the police series we were replacing had, I was a bit disappointed how hands on it made Blake's 7 appear when 'driving' the Liberator. However, I was absolutely in a minority of one and the set was certainly striking and effective. I was pleased to see that later on 'talking computer control' became the norm - never quite got to 'thinking' control but I bet that happens one day.
For Episode one THE WAY BACK there were something like 9 or 10 studio sets required and all of them meant to be in this huge artificial dome of a city. - Not to mention a court room, a tunnel to the outside world and a prison cell - none of them to be present day but something out of the future and never to be used again in the series - all very expensive and way beyond our police series budget -
The set designer for the episode was Martin Collins and when he asked me what I wanted I said really anything that did not look like a semi detached in Balham or an office block like the TV Center - I felt that to make the model of the city look huge the interiors had to be big. The corridors should look like streets. The court room vast. Maybe we could just have 3 or 4 big sets and change their appearance by re-dressing them? All this was a bit unlikely for the resources we had available.
A few days later Martin came to see me clutching a tatty cardboard box and a studio plan with nothing on it. He unrolled the empty plan and placed weights on each corner to keep it flat. Then he produced a cardboard rectangular pillar but V shaped on one side and placed it on the plan. then another and another till there were 6 or 8. 'Look' he said 'if you put them in a circle round the studio and add a big desk on a rostrum and some sort of dock you have a courtroom. If you move them into two straight lines across the length of the studio you have a wide street. If you move them closer together and put a door at the end you have a tunnel to the outside world. If you put 4 in a square and put a set of bars between them you have a prison! To stop 'shooting off 'you put a white cyclorama all around the studio - paint the floor white and with a few spare flats and bits we can make every set we need from these building blocks on wheels'!
Brilliant!
What ever else it may have been, the set design of episode one was very, very clever and would probably never have happened without the very tight financial restrictions that trying to do a space si fi series on a standard police series budget imposed.
The rest of the series was interesting to do but smacked of Dr Who a bit. Nothing wrong with that - they both have been amazingly popular series. I quite liked the small video cam which are 10 a penny today but unheard of when we made Blake. I was pleased with the matt shot of the dome city and the folks running in the darkness beneath it - The old war time caves from Project Avalon were a good location and worked well combined with the Wookey Hole caves. I liked the side of Avalon???s head coming off and the space ship that flies past and you can see the driver - Cannot say how pleased I was to give Glyns Barber her first television part - in an artificial snow storm then see her come back to the same series as a lead. The little people and the balloons with tinsel around in Burnham Beaches is also memorable. |I remember that in the rehearsal room we would use wood cutout guns for practicing the fights - slightly tongue in cheek I asked Sally Knyvette playing Jenna to say bang every time she fired so I could count the rounds etc. I was rewarded in the studio recording when Sally, in full gear brandishing a (blank) loaded UZI, jumped round the corner pointed the gun at the villain and screamed Bang Bang! - and why not it was what we rehearsed!
Chris Boucher was a wonderful script editor - without him we would have been lost. David Maloney having his first stab at producing was a pleasure to work for. Star Wars was released whilst we were preparing to Blake's 7 and I know Pennant went to see it - his office was next to mine and I am certain I could hear the occasional sob and sigh from next door. When all my episodes were finished I went to see Star Wars - I will never understand why Pennant didn't jump out the window. I mean how can you compete with that. We couldn't of course but somehow Blake worked for a lot of the audience a lot of the time.
We bravely went where others had been before.
http://uk.imdb.com/name/nm0108468/
This should go to my IMDb page
When the publishers Classic TV Press asked me to write these memoirs I was very flattered but somewhat unsure.

The title sums up the question I have been asking myself for years.

The book is available from

More about it
I am pleased to say this web site is

who have been kind, helpful and understanding. I really recommend them