Michael E Briant aka Michael Tennant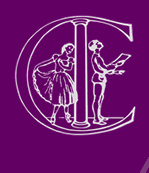 The first professional acting job, after going to the
ITALIA CONTI STAGE SCHOOL
when I was 12 years old, in Picadilly, Archer Street London W1,
was as an 'Elf & Rainbow Child' in the Anton Dolin production of
'WHERE THE RAINBOW ENDS' at the Royal Festival Hall in London.
Before an un-amazed audience, including my father who doubted my potential but permitted me to have another 3 years at Conti's, my performance was memorable only to me.
The school has now morphed into a giant in dramatic arts teaching https://www.italiaconti.com/ and there is a fascinating history at:-
https://www.italiaconti.com/about-us/about-us/history-of-italia-conti/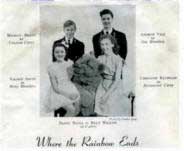 Three months after I joined Conti's for the 1954-1955 Christmas season of
I was, to my fathers delight, an Elf and a Rainbow child!
The following year for the 1955-56 season also at the Royal Festival Hall I played the lead role of CRISPIAN CARY
and from then on. the educational facilities at CONTI took 2nd place to my acting career.
W
here the Rainbow Ends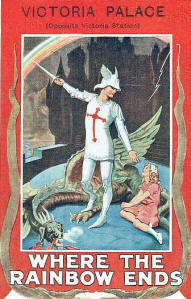 The actress Italia Conti had gained a reputation for working with children and was asked to train the underage company (which included a 12 year old Noel Coward). Where the Rainbow Ends was such a success that it led to Italia establishing regular classes to teach dancing, singing, acting and elocution. This quickly grew into a performing arts school that is still going strong and has boasted many famous names among its students, including film star Jack Hawkins (who was in the 1922 production of Rainbow at the Holborn Empire), Leslie Ash, Wendy Richard, Naomi Campbell,Clive Dunn, Graham Harper
Rainbow
is a children's play, originally written for Christmas 1911 by
Clifford Mills
and
John Ramsey. The
incidental music
was composed by
Roger Quilter
.
Where the Rainbow Ends
is a fantasy, containing themes of British imperialism that would nowadays not be considered
politically correct
. Even I was a bit shocked when I re-read the script
a few years ago! It concerns a group of children separated from their parents. Travelling on a magic carpet, they face various dangers on their way to rescue their parents, and are guarded
and helped by Saint George.
Bromley Repertory Theatre Productions
I was so lucky. Lots of 'acting' jobs came my way - particularly important was a series of different plays at BROMLEY REP. It was far more fun and interesting going to rehearsals in the daytime and 'shouting in the evening' than going to school.
Bromley Repertory Theatre Productions
that included me were:-
Murder at the Vicarage. The happiest days of your life, Master of Arts, The House Master, The Facts of Life, The Remarkable Mr Pennypacker, The Browning Version
Probably learned more at Bromley Rep than anywhere else. Such nice and talented people and so generous to a probably, horrid, child actor!
So at the age of 14 I would leave Conti's in Archer Street, Piccadilly and get the underground and a train to Bromley for rehearsals or to perform in the evenings and at 22.30 get myself to Paddington Station to get the train to my home in Maidenhead!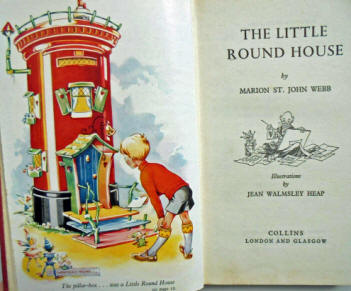 By 1995 a lot of 'telly' acting was also coming my way including leads in quite long running drama series like:-
THE LITTLE ROUND HOUSE, and the sequel MR PAPINGAY'S SHIP
in which I played the leading role of Robin and Toke Townly played played Mr Papingay.
Toke taught me a lot about acting and years later when he was Sam Pearson in Emmerdale and I met and worked with him again
him again decades later when I directed a number of episodes of Emmerdale Farm & Emmerdale over a 20year period.
THE MONEY MOUNTAIN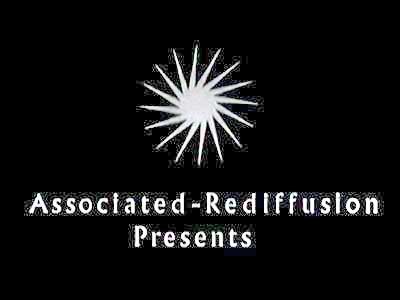 Which was a live drama production about two English kids somewhere in Europe having various studio bound adventures. Taught me to learn my lines properly as it was not recorded and if you dried or got the giggles you had to carry on... it transmitted on Saturdays in the late afternoon I think
My first venture into feature films was a Pinewood movie designed to be a sequel to the highly successful Genevieve staring John Gregson.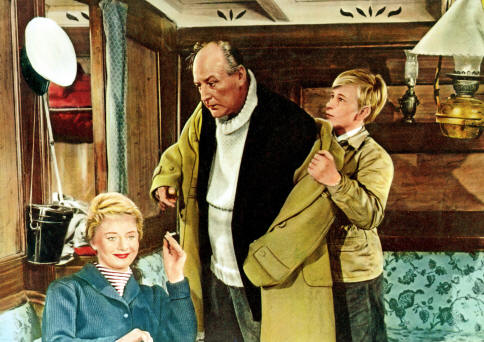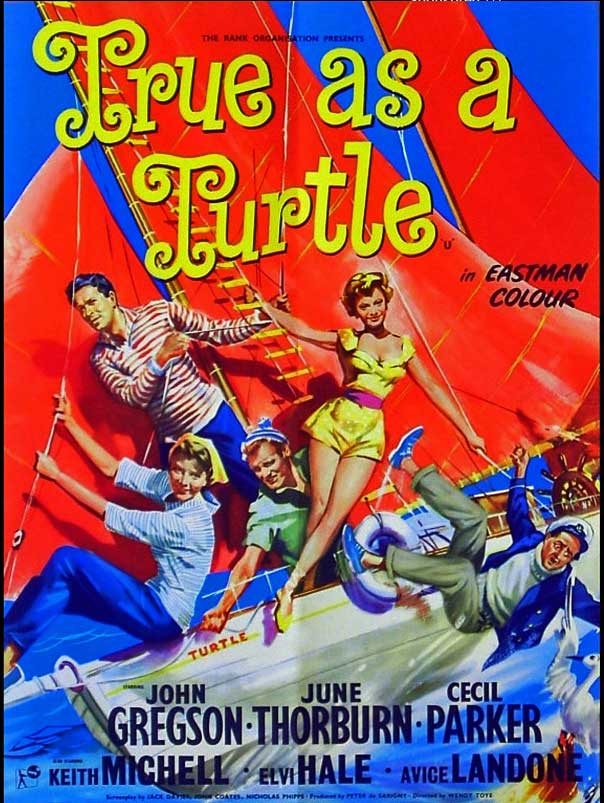 A wonderful cast of actors and was directed by Wendy Toye.
In a way it introduced me to 3 of the most important elements of my life -
The location filming was all in France where I now live
It gave me enough money to buy a Palliard Bolex 8mm cine camera and from then on I started making little movies. A lot of what I learned about story telling with a silent movie camera, stood me in good stead when I eventually became a TV director.
'Turtle' was set in a world of boats and sailing - and later I made a circumnavigation in my own small 36 ft sailing boat. So I suppose True as a Turtle started me into my two great loves - Directing and Sailing.
Tony
Jane
Dudley
Harry
Anne
Valerie
Charbonnier
Mary
Sir Harold Brazier
Lady Brazier
Paul
1st Officer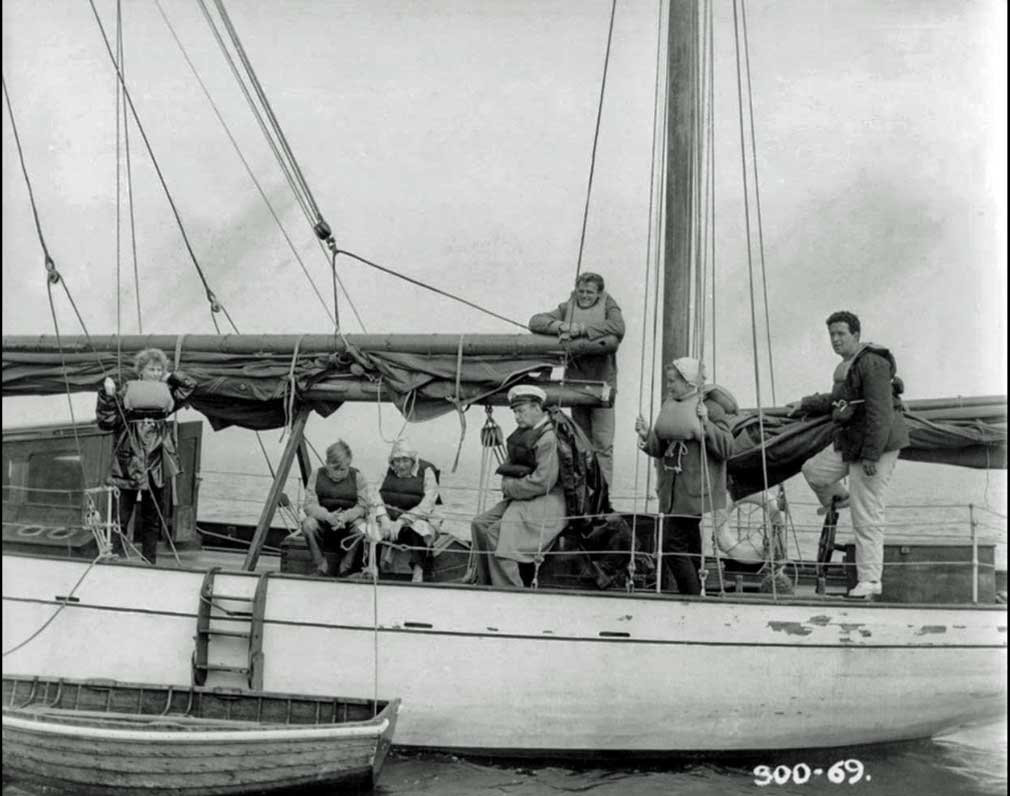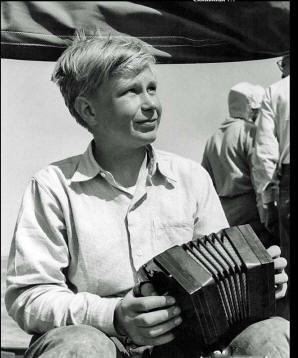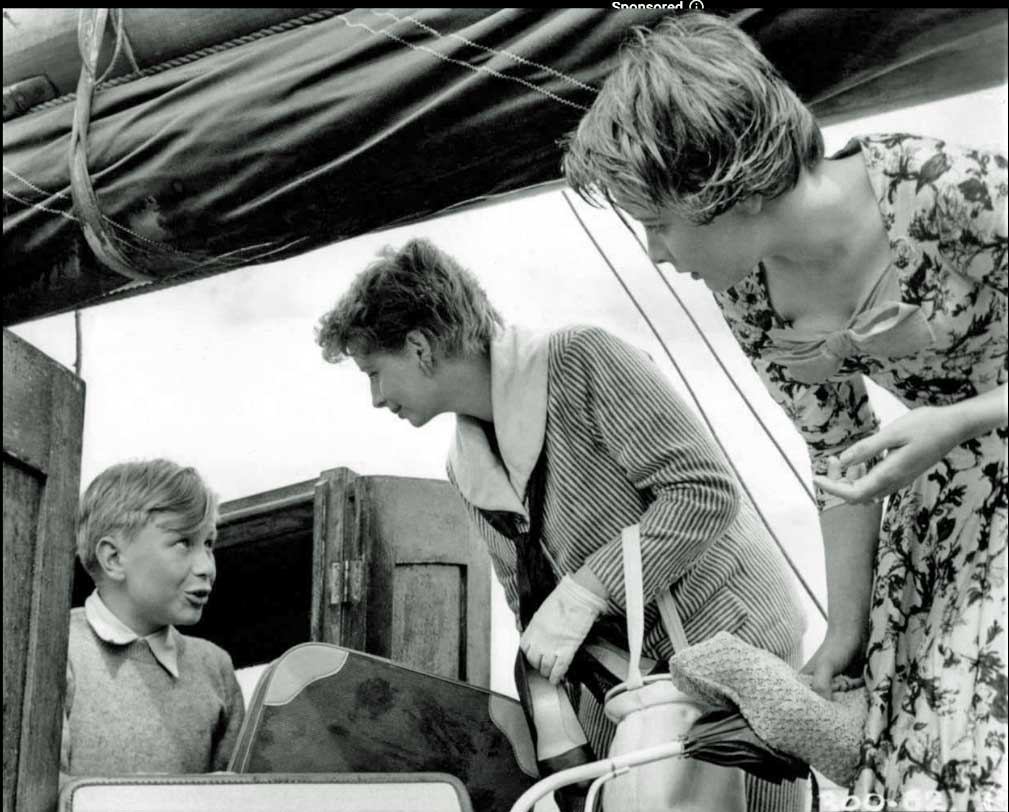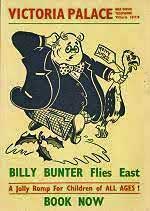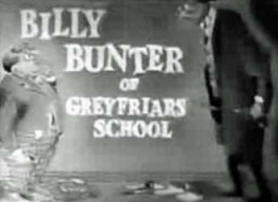 Billy Bunter
Played Harry Wharton (As Michael Tennant) in London's Victoria Palace Christmas production of BILLY BUNTER and later played FRANK NUGENT (As Michael Briant) in the 1961 BBC television production.
A few commercials, some radio, small parts in small films, bits and bobs in BBC television productions like Armchair Theatre and The Grove Family.
Doing OK but having spent my childhood playing leads or principle roles I was finding it hard to just do a couple of lines. Big difference between being a child actor and an adult actor. - You can't fool all of the people all of the time'.
Lots of other theatre came my way including several nation wide tours for Carl Clopet Productions managed by my dear friend Norman Atkyns who later acted in several of my own productions.
I played the boy in the BROWNING VERSION up and down the country as well as CHARLIE in CHARLEY'S AUNT and lots more.
Touring in those days meant traveling by train to the next town on Sunday and finding digs. Going to the new Theatre on Monday evening and sorting costumes and makeup - then 6 evening shows and two matinees giving lots of time to see the town then Sunday morning onto the train with all the rest of the company and off to the next town with the scenery in the luggage van.
As I entered my late teens the leading/important roles became harder to find - they were finding me out - and for a summer I worked as
ASM and actor at the Little Theatre - Great Yarmouth.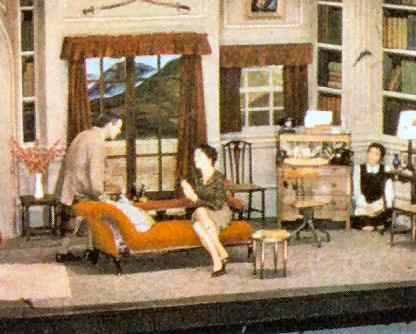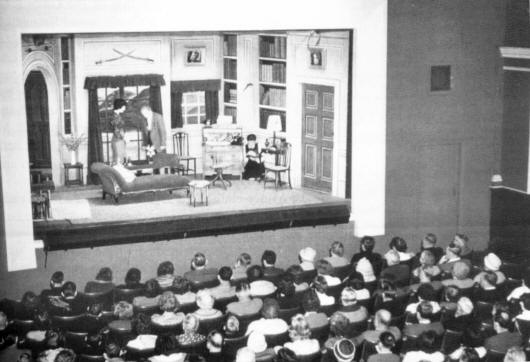 Wonderful experience doing weekly rep in a holiday resort theatre. Quite hard work - Monday morning sort costumes and props and do a dress rehearsal in the afternoon - Evening give first performance of that weeks new play which sometimes involved setting the props, getting into my costume and makeup - calling the main actors - playing God Save the Queen, taking the house lights down and bringing up the lights for the 1st scene, running down into the wings, making an entrance and 'giving' whatever was role for the week. Tuesday would start with a read through and blocking of the next weeks play, rehearsals Wednesday Thursday Friday and playing in the evening with matinees on Wednesday and Saturday.
Saturday night after the show striking the set and cleaning the stage and putting up the new set for next weeks play and staggering off to bed after midnight to have a day off on Sunday unless there were props to make or ....
This summer season taught me the art of the possible, how to 'run' a flat and do a quick scene change in a blackout.
Later as a television director this knowledge was invaluable. I knew what scenically could or could not be done and how long it should take.
I toured for a while with a children's theatre performing in schools up and down the UK. Based in Birkenhead the company required me to drive the van containing the scenery and other actors, put up the set, play the leading role of the Pied Piper and play the flute - all of which I did with more enthusiasm than skill - lots of fun - the more shows we did in a day the more we were paid so sometimes they got us doing 3 schools in the morning and 3 in the afternoon.
Not certain that practice makes perfect...
THIS
link is for Maggie -
We were at Conti's together -Tony A was my friend, your lover I think and when we met again a few years later you were a Bluebell girl and so beautiful. We had one magic evening together in Earls Court
Everything in the number and intro, is how it was - miss you....
Michael E. Briant directed numerous episodes of classic TV series throughout the 1970s such as Blake's 7, Secret Army, Warship and most famously Doctor Who. Many of his Who stories (The Sea Devils, The Green Death and Robots of Death) are regarded as all-time greats by fans of the series. In this memoir, Briant reminisces about his life and work, from his beginnings as a child actor...........
and stuff about my directing career is @Directing